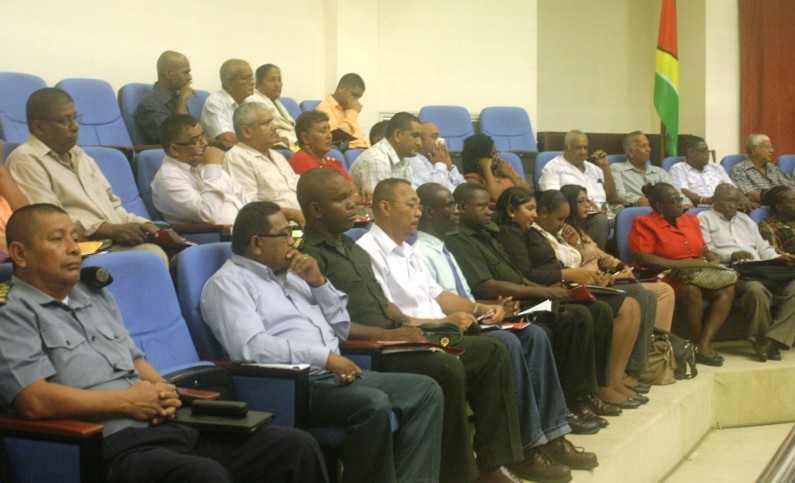 The National Procurement and Tender Administration Board (NPTAB) continues to strengthen the process of public procurement and as a result of this focus, there have been constant engagements with evaluators. In this regard, the Board held a workshop on Thursday at the Guyana International Conference Centre (GICC), geared to continuously strengthen the public procurement process.
High on the cards today was addressing ways of decimating threats and the perception of corruption. Minister in the Ministry of Finance, Juan Edghill from the onset of his presentation emphasised the need for evaluators to speak out against every public corrupt official, those who are negligent in the performance of their duty, and those whose performance/practice brings the service into disrepute.
"If there is a message that I can give to you is for us to mount an offensive by the way we perform that decimate the threats and perception of corruption…no matter what we do, if there is a perception that people are being influenced, people are being politically directed, people are selling out to friends (like I have seen in a an advertisement in a daily newspapers); it will undermine public confidence in our procurement system," he said.
The Minister indicated that there is a culture in Guyana where people make statements in a very irresponsible manner and without facts. "I must say that is disgusting especially when we have dedicated, hard-working public servants who are trying to do their best and they have people for their own personal agenda putting question marks over their performance, conduct and actions," he said.
Coming out of today's session it is hoped that the evaluators would be able to carefully articulate a path of how they can remove this threat and perception of corruption. In this regard, the Minister outlined three factors which he believes can immediately strengthen the procurement process. and more particularly at the level of the evaluators and the evaluation of tenders.
Minister Edghill asked that with immediate effect every evaluator should sign a confidentiality declaration and a conflict of interest declaration, and that they file returns with the Integrity Commission. These measures exist in some international agencies; one such is the European Union.
He indicated that President Donald Ramotar has also been emphasising to the Members of the Cabinet that they are required, by virtue of their office, to fill returns with the Integrity Commission, and these must be up to date.
"The more transparent a process is the more efficient our system will be…transparency promotes a more competitive environment and as a consequence we get greater value for money," the Minister emphasised.
In this regard, he posited that the intention of the workshop was to reinforce the requirements for the evaluation of bids so as to ensure that evaluators are thorough, ensure the difficult questions are answered and that their competencies are enhanced.
(Story and Photo by GINA)