Board Members and Officials of the Guyana Public Service Cooperative Credit Union are up in arms following a decision by the Chief Coop Development Officer and the Cooperatives Department to lock them out of their Hadfield Street building as the Department takes over the operations of the Credit Union.
An interim Committee will likely be put in place to continue the work of the body following the move last Friday.
The decision was taken by the Department after it found the management team's performance at the Cooperative Credit Union to be "unsatisfactory".
The Ministry of Social Protection has been keeping a close eye on the performance of the management team and has come to the conclusion that the affairs of the Public Service Credit Union were not being done with enough professionalism and transparency.
But today, Chairperson of the Public Service Cooperative Credit Union, Patricia Went, told reporters that no proper explanation has been given by the Chief Coop Development Officer for the move to take over the affairs of the Credit Union.
She said the Credit Union has learnt more about the development from the media than it has from officials of the Department.
"The Committee of Management objects to the actions of the purported Chief Cooperatives Development Officer since there was no investigation into the affairs of the Credit Union to support the published conclusion that and accusations of unsatisfactory performance", she said.
The Credit Union's Chairperson said the Management Committee believes that the move is more rooted in the Department's demand for overdue payments to the Auditor's Supervision Fund for the years 2002 to 2013.
Those payments amount to over $45 million, but the Credit Union officials insist that those payments cannot be justified since "the already audited accounts 2002-2010 reflects no such balance as was claimed and she failed to acknowledge waivers that were approved and granted by the Previous Minister of Labour, Human Services and Social Security, which to date is still in effect".
Board Member of the Public Service Credit Union, Dawn Gardener, said the issue has to be resolved and resolved in a proper manner. She said the Union prefers to now deal with the Minister of Social Protection, Amna Alli rather than the Junior Minister, Keith Scott. They claim Scott's meetings appear more like "gyaffing" sessions with no result.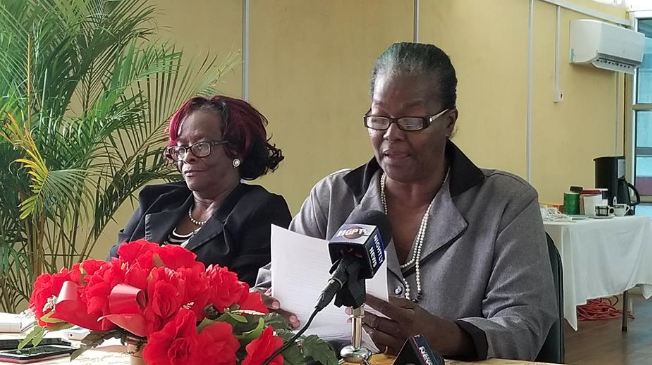 Ms. Gardener said the Credit Union offers loans everyday to Public Service workers and therefore the Management Committee ought to be allowed to continue with its job. She said Credit Union Officials plan to raise the issue with the President if they fail to get the process to move forward properly.
In a statement over the weekend, the Ministry said "after more than two years of painstaking discussions, and exchange of almost 30 pieces of correspondence, the Ministry can no longer tolerate the obstinate and counter-productive conduct of the management committee which has contributed to the woes of the members. After all, the time has come for a change and the Ministry wishes to advise the employees that no one will be unjustly displaced during the transitionary period."