Close to thirty miners and their family armed with placards, assembled today in front of the Ministry of the Presidency where they staged a peaceful protest against the recent arrest of 21 persons who were found to have been mining illegally in the Kaieteur National Park.
Among those protesting was  Toshao, Edward Mc Garrell, who said that the Region Eight community has been shaken by the recent incident.
Over the weekend, a number of illegal mining camps were shut down and miners arrested.
The move came following repeated attempts dating back to more than three years ago, to bring a stop to mining in the protected area.
Of the five mines found on Sunday, three had already been issued cease orders by the GGMC in 2014 with reinforcement actions as recent as 2016.
Twenty one persons were subsequently arrested by officers attached to the Guyana Geology and Mines Commission (GGMC) and soldiers and were brought to CID headquarters in Georgetown.
They were released on Tuesday and will face criminal charges in the new month. 
McGarrell, however, is maintaining that the mining was being done far from the protected area.
"The mining was being done far from the sign which says 'Kaieteur National Park'. Because other than that, there is nothing to show where the park starts or ends" he said.
However, he was unable to say if permits had been granted for mining to be conducted in the area. "I would not be able to say if they had permits allowing them to mine on the lands" McGarrell said, adding that two or three miners were able to acquire legal mining claims out of the park.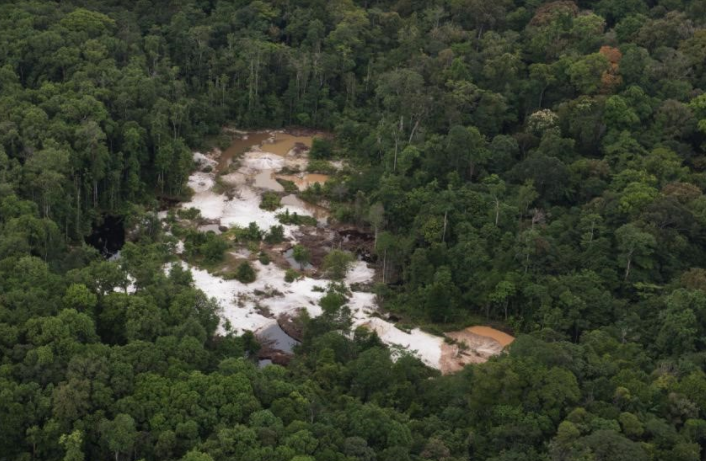 The village Toshao also noted that his community was severely affected by the recent flooding, and so persons are making attempts to start rebuilding their lives.
In light of these developments, the village leader said that his people desperately need a meeting with President David Granger to discuss this issue which has had a negative effect on his community.
"We want to meet with the President to let him know what we are going through because we don't know if his advisors are telling him the right thing. I know many times the advisors carry wrong information. If they are carrying the right information and he is still acting like this, then we would like to know why."
Further, he said that the National Toshaos Council (NTC) has been informed of the incident, and that body has extended its full support to the miners and people of Chenapau.
Meanwhile, Valarie Carter, a relative of one of the miners who was arrested, said that the residents do not appreciate what transpired over the weekend.
"They brought our family and relatives out like they were bandits and these people are not bandits. We're not bandits that they should treat us like that. We are human beings trying to survive just like them and they should treat us like human beings" Carter shared.