Local rights advocates are not pleased with the selection of former President Bharrat Jagdeo as opposition leader and they have launched a protest against his return and that of several People's Progressive Party Civic (PPP/C) members to the National Assembly.
The activists picketed outside the PPP Freedom House headquarters this midday and called out former President Bharrat Jagdeo, on several human rights violations.
The activists believe that Jagdeo has not only committed injustices against women but has also been allegedly spreading racist messages. They are convinced that he is unfit to represent the citizenry in the capacity as Opposition leader.
Jagdeo, during his tenure as President, was accused of high-tech abuse against his wife, Varshnie Singh. She had complained bitterly about being abused by him. He has always denied those claims. Back in May, private criminal charges were filed against him over statements he made on the campaign trail that are believed to have been inciting racial tension. 
"I think it is time we rebuild a serious parliament and for a long time we have been saying that the people who were put in parliament should be people who are pretty upright and above a certain kind of reproach," said women's rights activist Karen DeSouza, as she waved a placard in front of Freedom House.
DeSouza along with several others believe that Jagdeo is not the only person from the PPP who is unfit to be a Parliamentarian.They also pointed fingers at former Health Minister Dr. Bheri Ramsaran who was fired by former President Ramotar and former Attorney General Anil Nandlall.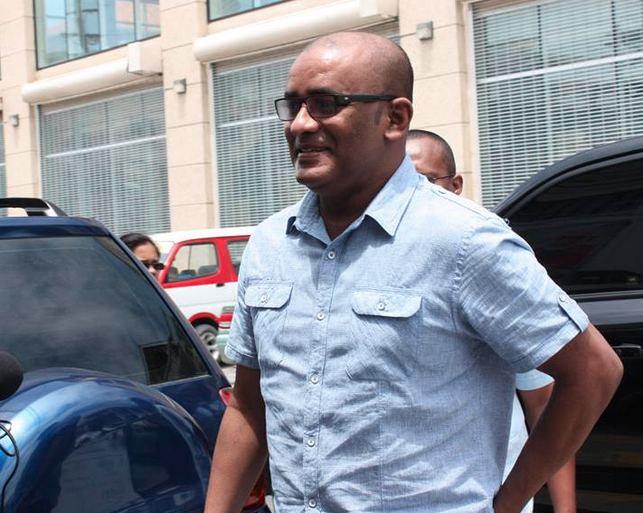 "The three names are not persons above reproach. Mr Jagdeo has proven himself to be a confounded liar. He lies every time he opens his mouth. Nandlall and Ramsaran have demonstrated the most enormous disrespect for women and it is disrespect that apologies really don't help… they really hate women and believe that women are less than themselves," she added.
During the protest, Jagdeo arrived at Freedom House but refused to offer any comment to reporters.  "I have no comment at this time. I will speak when I'm ready to speak", he said as he grinningly walked into Freedom House. 
When asked if he was in any way affected by the actions of these rights activists Jagdeo responded "no I'm not… you know Jagdeo, I'm not afraid to react."
"What is brutal is that the opposition party has not condemned Jagdeo for making an overt racist statement. He is in record as saying if APNU wins the elections, security forces will go into the homes of Indians and perpetuate violence. We are asking Jagdeo if he believes that is a historical fact," said Columnist and activist Freddie Kissoon.
Kissoon believes Jagdeo's refusal to withdraw his statements has caused much unease may be considered racist in itself.
Nandlall on the other hand was recorded during a telephone conversation, while serving as Attorney General, making threats against the Kaieteur News staff and a female reporter in particular.
PPP Executive Member Indra Chandapaul defended the PPP's list of candidates for the National Assembly.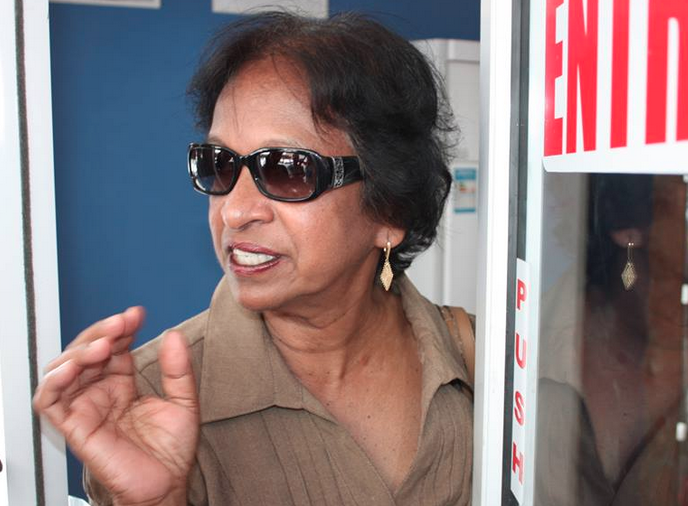 "Mr Ramsaran apologized and I'm sure as was stated before what he said he is sorry for it. We can't just keep holding that issue all the time against him. There are many people who have violated women in many ways. I'm sure these public officials having said what they said, I'm sure they would have recognized and faced the consequences of it," she said.
Her defense did not go down well with the protesters who maintained that an apology wasn't enough and called even on the APNU+AFC government to reject their participation in the House.
"We do not want the government to be afraid, the people are behind you," shouted one protester.
(Kurt Campbell reporting)