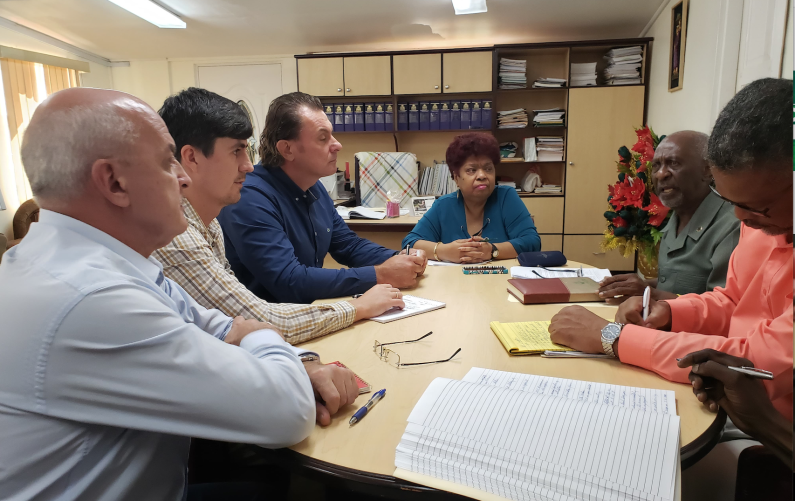 At a meeting with the Senior and Junior Ministers of Social Protection and the Chief Labour Officer, executives of the Rusal Bauxite company today announced the termination of 326 employees including those who were laid off previously.
The announcement came towards the end of the more than two-hour meeting, forcing Minister of Social Protection Amna Ally and the Minister responsible for Labour, Keith Scott, to remark that it is clear RUSAL did not attend the meeting to seek an end to the impasse with its workers.
Minister Keith Scott said there was no notice to the Labour Department that the company was moving to terminate the workers. The RUSAL company officials also informed the Government officials that they had not informed the Union either.
Minister Keith Scott said the company's position is unacceptable.
"You are coming here this morning and saying that over 300 gone home and still there is no notice to us", Scott said.
RUSAL's representative Vladimir Permyakov, said the situation was an emergency, but the Government officials did not buy that excuse.
"This is an emergency situation, the unlawful blockage of the Berbice river", Permyakov said.
After RUSAL laid off 140 workers because of a fuel shortage at its operations, the workers moved to block the Berbice river, preventing the company from using the river to ship bauxite or any other thing out.
Minister Amna Ally said the company was wrong to lay off the worker because of what she considers, "a management issue" that it was facing in relation to its fuel situation.
She said her Ministry is concerned with the industrial relations situation and the company ought to seek the help of the Police and the Maritime Administration to address the blockage of the river.
The Minister said what RUSAL did and is doing is illegal and the company should start making moves now to reinstate the workers.
She questioned the RUSAL officials about whether they were getting out of the bauxite mining industry in Guyana since they have started to re-export. The officials said "no", but Ali said she then finds it even stranger that they are terminating workers and re-exporting equipment.
The RUSAL Representatives said the blockage of the river by the protesting workers was hampering their operations and that forced the move to completely terminate the 326 workers. One of the representatives said he has never seen such a protest in all of his years in working across the globe.
Minister Ally in response said RUSAL's moves around this time when elections are in the air, appear to have a political leaning. She said the company ought to be very careful with any such position.
The RUSAL representatives denied any political involvement by the company or its officials. Ally said it is the government's position that the workers all be reinstated.
A meeting has been scheduled between the RUSAL company and the Chief Labour Officer on Wednesday.