With reports of the Special Organised Crime Unit (SOCU) planning to file more charges against former Finance Minister Dr. Ashni Singh and former Head of the Privatisation Unit Winston Brassington, the two former Government Officials spent several hours at the SOCU Headquarters this morning being questioned about their further involvement in the sale of several state properties.
The two made their way into SOCU Headquarters just after 9 am with their attorneys and remained there up until noon.
Former Attorney General Anil Nandlall, who is part of the legal team representing Singh and Brassington, explained that the questioning was unrelated to the three charges of misconduct that were filed against the two yesterday.
He said the duo were being interviewed by SOCU investigators on more than 10 other matters.
"They are putting allegations to them in relation to the sale of property going back to the 90s," he said briefly.
Nandlall described the exercise as being worse than a fishing expedition and said it made no legal sense.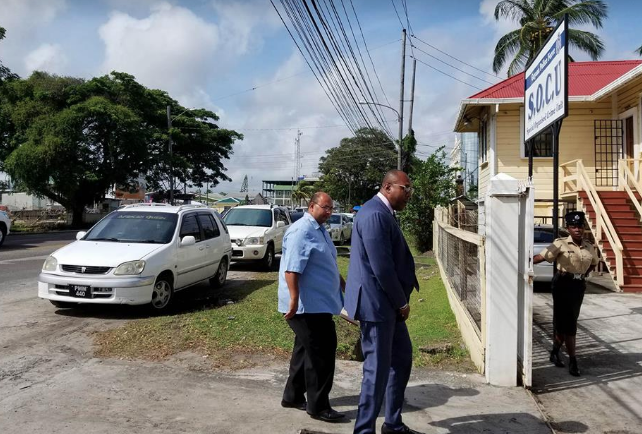 He said the SOCU investigators conducted their interviews in a very cordial atmosphere and were very courteous and professional.
While in Court yesterday, SOCU's Prosecutor had told the Magistrate that there were several other cases for which the Unit needed to question the two accused about.
The Prosecutor also said that more charges were likely to be brought against Singh and Brassington.
SOCU's Head had told the media that there were well over two dozen cases pending that involved Dr. Singh and Mr. Brassington.
The two former Officials are currently on $6 Million bail each for the three charges of misconduct that they are currently facing. The People's Progressive Party has described the charges as "political vindictiveness".
The charges relate to the sale of several acres of state lands to private companies at prices far below their value.
-by Kurt Campbell-