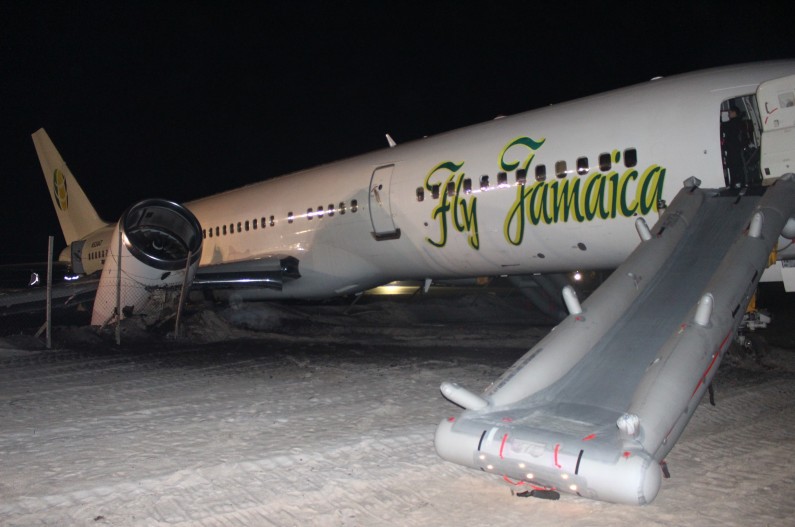 by Gordon Moseley
Six passengers were injured this morning as a Fly Jamaica 757 aircraft was forced to make an emergency landing at Guyana's Cheddi Jagan Airport.
The flight with 120 passengers and eight crew members departed Guyana for Toronto, Canada just after 2 o' clock this morning.
However, less than thirty minutes into the flight, the pilot made contact with Guyana's Air Traffic Control at the Cheddi Jagan Airport, seeking permission to return. Air traffic control was told that the airplane was encountering problems with the its hydraulics system.
In making the return and emergency landing, the plane overshot the recently extended runway and made its way through the perimeter fence, only coming to a stop when it encountered a heavy build up of sand, close to a ditch.
Emergency crews were immediately activated and were able to get all passengers and crew members safely off the plane.
Minister of Public Infrastructure, David Patterson told reporters this morning that although six passengers were injured, those injuries are not life threatening. He said there are no reports of any broken limbs or bones.
The injured passengers were rushed to the Diamond Hospital on the East Bank of Demerara as the investigation was launched into the incident.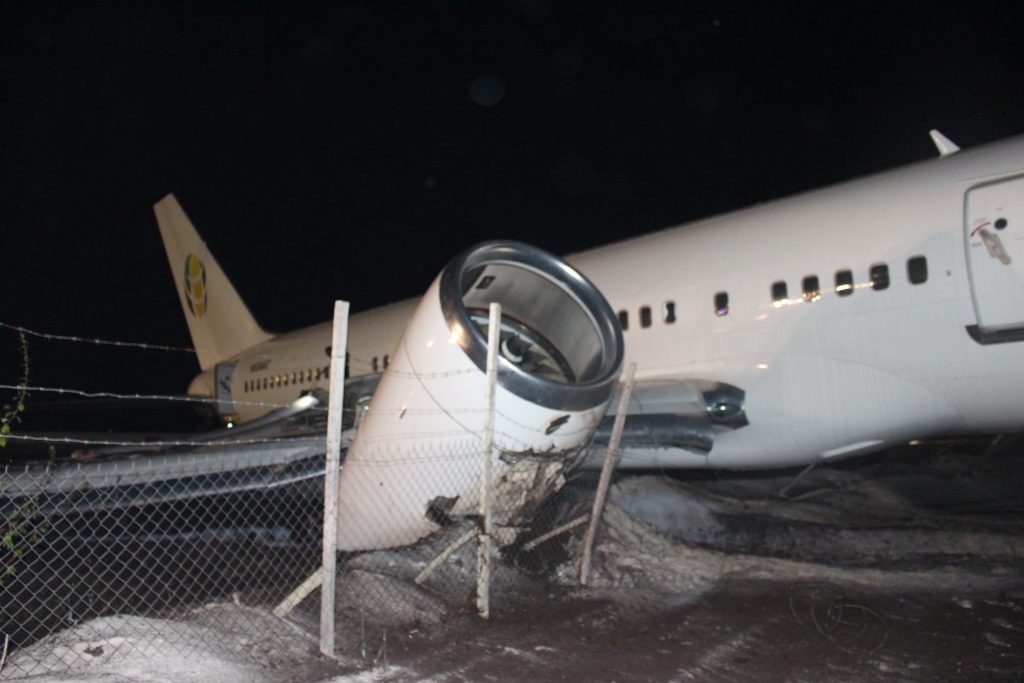 The airport was temporarily closed off following the emergency landing, but it has now been reopened.
Other flights are now able to land and depart from the airport.  The Guyana Civil Aviation Authority is leading the investigations. Other international aviation authorities are expected to join the probe.
An emergency line has been established. Persons wanting to make contact with officials could do so by dialing +592-261-2281.
In a brief statement, Fly Jamaica Airways said it is assisting the passengers and crew and will support the investigation.
Minister Patterson said the one bright light in the tragedy is that the airport's extended runway was able to accommodate the emergency landing, although it has now yet gone into operation.
He also noted that this morning's incident took place close to where a similar incident occurred a few years ago with Caribbean Airlines. There was no extended runway at that time.