(MOTP)  President David Granger, on Sunday, said that global partnerships to combat terrorism cannot exclude small states, since conflict between and within such states, or between a small state and other states, can endanger the peace of all countries.
The President, who was at the time speaking on the side lines of the Arab-Islamic-American Summit in Riyadh, Saudi Arabia, said that the majority of the states of the world can be described as small states and, as such, the world cannot be made secure without addressing the threats faced by those countries.  "The international community, therefore, must be encouraged to work towards the establishment of a global security system, which would provide protection for small and large states," the President said.
Mr. Granger added that small states like Guyana, lacking the means to combat transnational threats, such as terrorism, must be able to rely on the protection afforded through international cooperation, multilateralism and international law. Small states, he noted, lack the capability to effectively combat transnational security threats on their own and also face environmental threats, such as the adverse effects of climate change and natural disasters, which can have implications for their security.
According to President Granger, small states, with adequate international support and cooperation, can avoid becoming contaminated by the ideologies of extremism.  "Terrorist organisations can be extremely resilient. They are becoming diffused and when facing rout in one jurisdiction are shifting their operations to others, including small states.  Small states have been known to be recruiting centres for terrorists," he said.
As the current Chairman of the Caribbean Community (CARICOM), President Granger said the regional body is a willing ally in the 'just' war against terrorism and extremism.  He said, too, that Guyana welcomes the partnerships being forged to combat the global scourge and alluded to the fact that small states must remain integral to all partnerships even as the quest for a more comprehensive global agreement on terrorism is pursued with resolve.
President Granger said that the Arab-Islamic-American Summit is a bold initiative that seeks new approaches to building effective security partnerships to prepare for, to prevent and to protect citizens from the threat of terrorism and violent extremism. "Terrorism is an international menace. No state is safe from its reach. It endangers human safety, undermines national security and imperils the future of all peoples. The Arab-Islamic-American Summit is a unique interstate response. It could lay the groundwork for a comprehensive global partnership aimed at making our world a safe, stable and peaceful place," he said.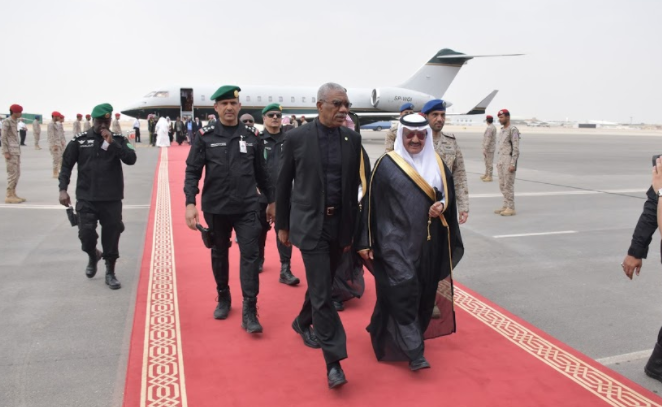 Host of the event, Custodian of the Two Holy Mosques, King Salman bin Abdulaziz Al Saud, in his address at the Summit, committed to constructive cooperation to reject extremism, work on fighting all forms of terrorism, to stop its financing and propagation, dry up its sources and to stand firm in confronting the scourge, which poses a danger to all of humanity.
The Saudi leader said that Islam is the perfect example of coexistence and harmony. However, what has been seen are attempts by "presumed Muslims" to present a distorted image of the religion; one that seeks to conflate the great religion of Islam with violence. "One of the most important goals of Islamic Sharia is protecting life and that there is no honour in committing murder. Islam is the religion of peace and tolerance that urges its followers to develop earth and not corrupting it. It considers killing an innocent soul tantamount to killing all of humanity," he said.
To combat this type of extremism, Saudi Arabia, today, inaugurated a Global Centre for Combating Extremist Ideology (GCEI), which will promote moderation, compassion and support the dissemination of positive dialogue. Participating in that ceremony today, President Granger said it is a concrete expression of the philosophical approach, which defined the discussions at the Summit.  The Centre, he noted, offers a counter narrative to the ideologies of extremism. This, he said, must be predicated on respect for cultural, racial and religious diversity and human dignity, respect for international law, respect for the rights of all peoples to self-determination and to a homeland and respect for territorial integrity and the security of states.
"The Cooperative Republic of Guyana welcomes the inauguration of the Global Centre for Combatting Ideological Extremism.  Ideologies of extremism require both security and non-security responses. Extremism flourishes where international conflicts persist; is fomented where historic injustices are left untreated; is fostered where people are rendered stateless or are hindered in their right to self-determination and to a homeland; and festers where attempts are made to settle disputes through threats or the use of force," the President said.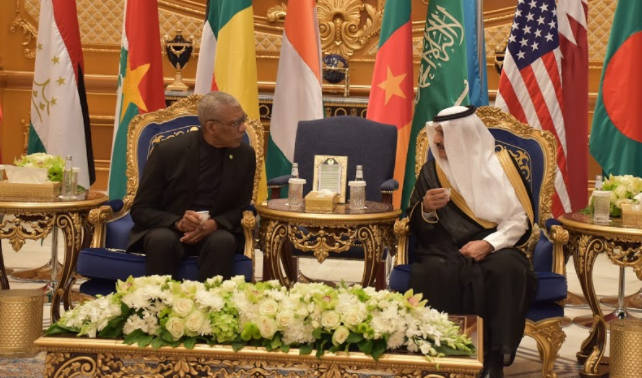 United States President Donald Trump, who is on his first overseas trip since taking office, along with King Salman, officially activated the Centre by placing their hands on a miniature globe, followed by the launch of a splashy welcome video.  Speaking earlier at the Summit, President Trump told the world leaders that they must be united in pursuing the goal of conquering extremism and vanquishing the forces terrorism brings with it. The American Leader said that it is not a battle between different faiths, sects or civilisation, but a battle between "barbaric criminals, who seek to obliterate human life and decent people, all in the name of religion."
The Summit was also attended by the Minister of Foreign Affairs of fellow CARICOM member state, Suriname, Ms. Yldiz D. Pollack-Beighle, who travelled to Saudi Arabia with the Guyanese delegation.