The stage is set for the Guyana Independence Carnival and organisers have indicated their readiness to host the event.
A number of private business persons have come together on the organizing committee to host the Guyana Independence Carnival in the month of May. The Hits and Jams Entertainment group is the main organiser.
The carnival will run for ten days and according to Chairman of the organizing committee, Bobby Vieria, the Guyana Carnival is not meant to be a competition for Mashramani, but rather supportive of the Mash activities that take place every February.
"Carnival is about music, fete, parties, having a good time. This will be supportive of Mash. Mashramani is the national festival, organised and promoted by the Government. The Guyana Carnival is a festival organised and promoted by the private sector".
He said local and Caribbean artistes will be at the twenty Carnival shows to present that perfect setting for the carnival lover.  Local producer Drew Thoven has released fifty two songs for the event, all of those songs feature Guyanese artistes.
The Government has also been approached for support and it is likely that some government agencies will come on board.
Logistis Organiser, Rawle Ferguson explained that the Carnival committee also includes the Guyana Police Force and that is to ensure law and order and security tops the agenda to ensure the safety of patrons and supporters.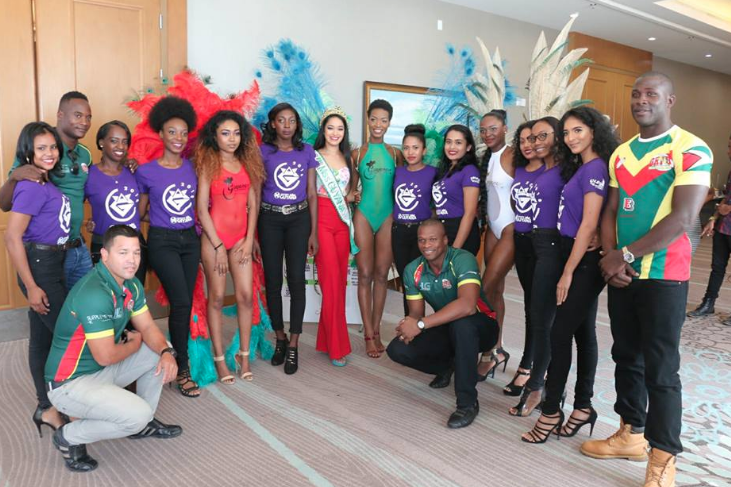 Events Manager, Kerwin Bollers said following Guyana's 50th Independence Anniversary celebrations two years ago, a need arose for a major event during the month of may to celebrate independence. That led to the Guyana Independence Carnival being hosted.
In addition to the many party activities, the Guyana Carnival will also see the staging of the Miss World Guyana pageant during that time.
Already a number of companies have come on board for the event.
Fly Jamaica and Liat are the official airline partners and will both be offering discounted fares for the Guyana Carnival season.  Demerara Distillers Limited will be the main beverage and liquor sponsor. The Company has also released an official carnival labelled Diamond water.
For more information on the Guyana Carnival, visit www.guyanacarnival592.com