The owner of the Tourist Villa hotel in Fifth Street, Subryanville is in Police custody after he shot his neighbour, 30-year-old, Jason De Florimonte (in photo above) dead this morning.
The dead man was shot four times to the body.
According to a Police statement, at around 1:45 this morning, the now deceased man and his girlfriend were having a confrontation in front of their home, which is located just opposite the hotel.
It is alleged that De Florimonte started to assault his girlfriend and during the course of the beating in front the yard, the hotel's handyman sought to intervene.
The man turned his wrath on the handyman and gave chase to him. The handyman bolted into the hotel's yard with De Florimonte in pursuit.
In the hotel's lobby, the young man reportedly came face to face with the hotel owner and the two got into a row. It was at that point that the hotel owner, pulled out his licensed firearm and shot De Florimonte four times to the body.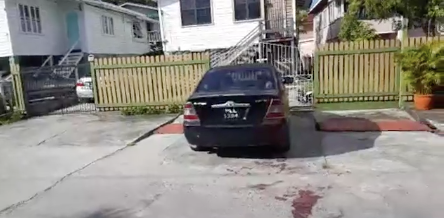 Investigators were called to the scene just after where they discovered the man's body. He was taken to the Georgetown Hospital, where Doctors to pronounce him dead.
The hotel owner, whose name has not been released, was taken into custody.
Investigators are expected to return to the scene today and question other persons in the area since there are also reports that the hotel owner and his now dead neighbour, had a long standing feud of their own.
The probe continues.