A survey of 55 randomly selected food service establishments in the Region 4 and Region 5 areas has uncovered some shocking findings.
The survey was conducted by the Government Analyst Food and Drug Department and was carried out between September of last year and March of this year.
The report did not name the businesses surveyed, but has reportedly made known its findings to them.
In regard to food preparation, only 18% of those surveyed, effectively protected the food from contamination, whilst a mere 11% practiced meat thawing safely.
The survey also found that only 13% of the food establishments had their employees using gloves while handling food.
As it relates to sanitation, only 4% of the workers at the surveyed establishments were observed applying the correct principles of cleaning and sanitizing.
The report found that there was adequate external garbage disposal in 73% of the businesses visited while only 56% had an adequate temporary internal garbage disposal.
In regard to employee hygiene, only 20% practiced handwashing correctly and less than half of the businesses involved in food handling had their workers with hair nets.
The Food and Drug Department has reported that Microbiological samples were taken of the food, from the hands of workers, from food contact surfaces and food containers and air quality.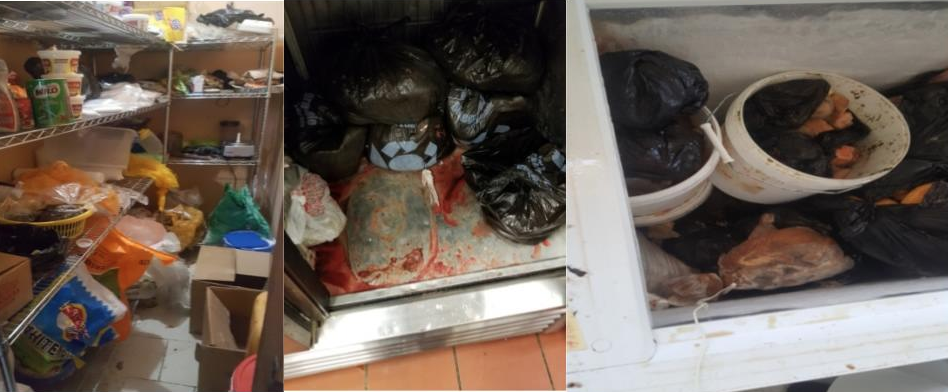 Of the 99 food samples submitted, 37% was found to be unsatisfactory and of the 102 hands of workers that were swabbed after washing, 47% were unsatisfactory.
In regard to food contact surfaces (cutting boards and utensils), 30% of the 125 surfaces swabbed after cleaning and / or sanitizing were unsatisfactory. Forty six percent (46%) of the 48 food serve containers (food boxes) sampled were unsatisfactory.
The air quality in the majority of establishments was generally satisfactory since 95% of the 64 air quality samples taken were satisfactory.
The Department said the high percentage of unsatisfactory foods, which were generally served hot and should, therefore, be free of microorganisms, may be as a result of cross-contamination.
Cross-contamination can stem from unsatisfactory food storage conditions, unsatisfactory thawing practices, inadequate cleaning / sanitizing of food contact surfaces and workers hands. The observed limited glove use may also be a contributing factor.
The Department reminded that in 2015, the World Health Organization (WHO) estimates suggested that 1 in 10 or approximately 600 million persons fall ill each year after consuming contaminated food, with approximately 420,000 deaths.
Analytical Scientific Officers attached to the GA-FDD's Food Laboratory conducted the survey in collaboration with Food Inspectors of the GA-FDD, Public Health Officers' from the City and Municipalities, Environmental Health Officers (EHO's) of the Region and Port Health Officers.