First Lady  Sandra Granger, on Thursday, charged an enthusiastic group of 31 teenage mothers never to give up on themselves, in her address at the sixth graduation ceremony of the Women Across Differences' (WAD) Comprehensive Empowerment Programme for Adolescent Mothers, which was held at the Umana Yana in Kingston, Georgetown.

"Keep the dream alive, don't let it die and never give up, don't every give up on you," the First Lady told the women, explaining that she was so inspired by their achievements that the lyrics of the popular song "Never Give Up" by Yolanda Adams played in her mind as she was preparing her address.

The Comprehensive Empowerment Programme for Adolescent Mothers hosted under the theme "Reducing Unplanned Pregnancy among Adolescent Mothers and Enhancing their Life Skills and Competencies" aims to help adolescent mothers ages 12 to 19 to reduce unplanned pregnancies; build self-confidence; provide entrepreneurial knowledge and skills and promote positive lifestyles. It is funded by Republic Bank (Guyana) Limited.

The First Lady noted that she was particularly proud of the young women's accomplishments as they would have had to overcome a number of challenges in order to have made it this far. "Women face many challenges and for adolescent mothers these challengers are multiplied because these are still, in essence, girl children who are trying to understand themselves and their bodies. They have to confront and solve the problems which adult women face. Many will have had to drop out of school. Some may lack family or financial support. Many will struggle to feed and clothe themselves, their children [and] to keep a roof over their heads. Some may have to endure violence on a daily basis, whether it be verbal, physical or psychological abuse," she said.

For this reason, the First Lady said that the WAD and Republic Bank (Guyana) Limited must both be accorded special praise for the profound contribution that they are making to the growth and development of the young mothers and their children.

WAD is a non-governmental organisation (NGO), which provides a forum for women and girls to meet, to serve individuals and vulnerable groups through education, empowerment and advocacy to effect social change. Ms. Clonel Samuels-Boston, Coordinator of WAD, said that "the programme has made a significant impact on the lives of the adolescent mothers since many come to view themselves as individuals of worth". She noted that the teenagers are introduced to her organisation when they register for prenatal clinics across the country and at the Georgetown Public Hospital Corporation. Three hundred and thirty-two adolescent mothers have benefited from the programme since its genesis in 2008.

Ms. Jonelle Dummett, Manager's Assistant, Communication and Public Relations, Republic Bank (Guyana) Limited, who delivered remarks on behalf of Ms. Michelle Johnson, the Bank's Manager, Marketing and Communications, said the WAD and the Bank have collaborated since 2015, when the NGO became one of the organisations that received the Bank's commitment of support through its Social Investment Initiative 'Power to Make a Difference Initiative'.

"Over the period, we have welcomed the opportunities to meet and interact with the beneficiaries of the Comprehensive Empowerment Programme for Adolescent Mothers and have witnessed the positive impact this programme has been. We have seen the increased self-confidence, boldness of expression, display of camaraderie and are moved by the progress and success of their academic pursuits and skills development," she said.

Meanwhile, Ms. Hazel Halley-Burnett, Gender Consultant at the Ministry of Social Protection, after conveying regrets that Minister of Social Protection, Ms. Volda Lawrence could not attend the ceremony, read her message to the graduates. "You are not stepping out today in the same way that you arrived prior to your participation in the Comprehensive programme…. You are emerging as empowered individuals in possession of relevant and practical knowledge and a repertoire of skills, which you can use for your personal development and that of your children. You toolbox [is] replete with tools of all kinds among which are self-confidence, self-esteem, communication, negotiation and entrepreneurial income-earning skills," Ms. Halley-Burnett quoted from the Minister's message.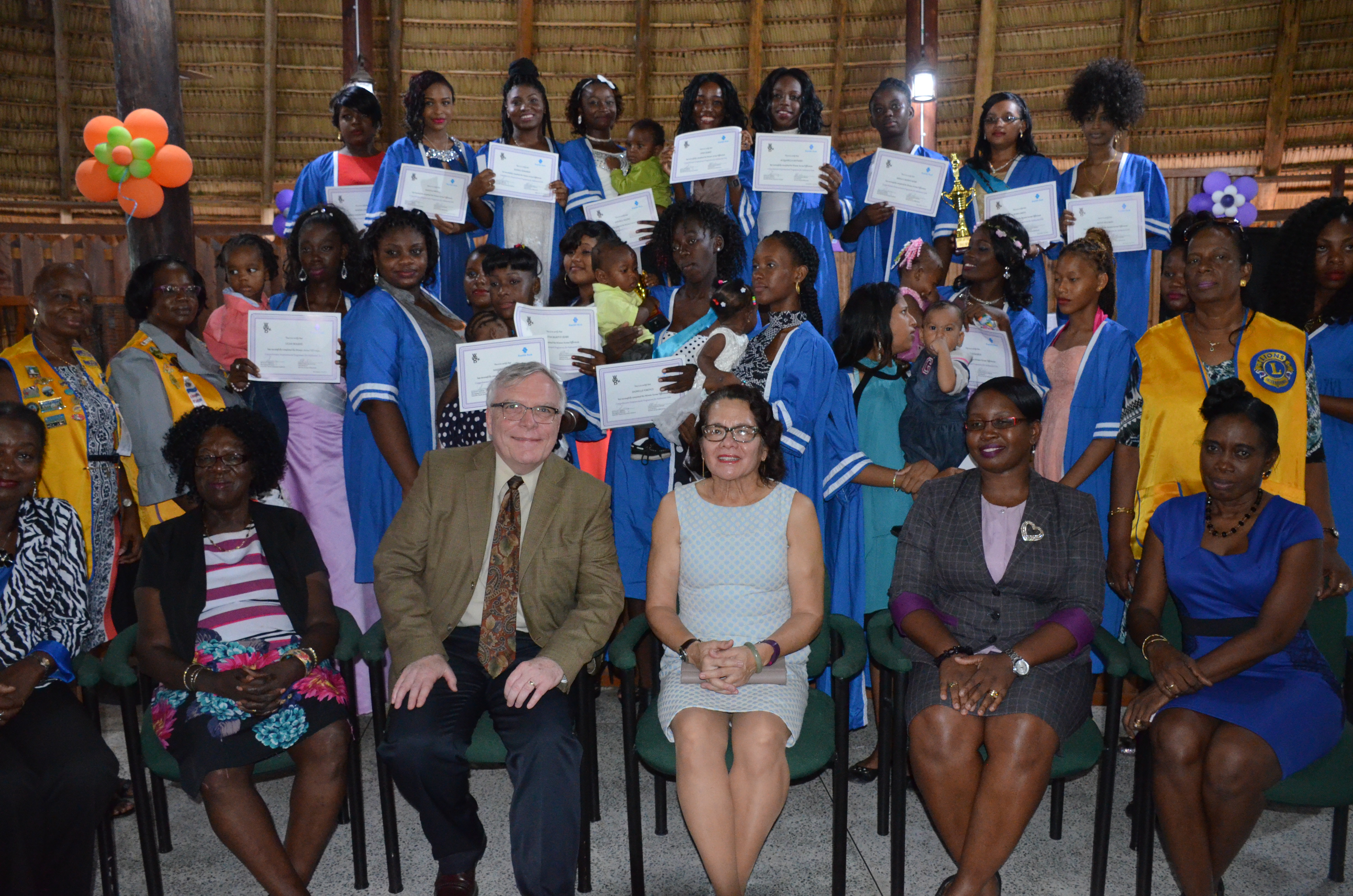 High Commissioner of Canada to Guyana, His Excellency, Mr. Pierre Gireau, United Nations (UN) Resident Coordinator and United Nations Development Programme (UNDP), Resident Representative Ms. Mikiko Tanaka; United Nations Population Fund (UNFPA), Assistant Resident Representative, Ms. Patrice LaFleur, CUSO International, Ms. Alexandra MacAulay and Ms. Caroline MacIsaac also attended the ceremony.

The packed programme, which also featured an exhibition of decorative items created by the teenage mothers, was chaired by Dr. Patricee Douglas. It also included the recitation of a poem titled "Woman of Substance" by WAD member, Ms. Tamara Rodney and a song sung by Ms. Michelle 'Big Red' King. Musical accompaniment was also provided by the Guyana Police Force Band.