As Leaders of the 15-member Caribbean Community (CARICOM) prepare to wrap up their 37th Regular Meeting today in Guyana, the absence of women representation at the table is being called into focus.
Commonwealth Secretary-General Patricia Scotland has expressed disappointment, saying that the absence of a female face as the Head of a CARICOM state tells a grim story about Caribbean politics.
Twelve of the 15 CARICOM member countries sitting around the table at this meeting are Commonwealth members.
Scotland sat down with News Source on Tuesday to discuss a range of issues. Among them was the absence of female representation at the negotiating table.
The only female Head of Delegation attending this year's conference is Delmaude Ryan, Montserrat's Deputy Premier and Minister of Education, Health and Community Services.
She is representing Premier Donaldson Romeo.
Scotland, who was born in Dominica, said while it is important to celebrate the democratic choice of voters, more must be done to encourage women to serve at the political level and foster equality.
She said she will never be satisfied until there is 50/50 representation of men and women.
"We have to ask ourselves why, because women in the region are talented and gifted and they have carried this region on their backs… so why is it that we do not have more women willing to enter the political field," she said.
"That tells something about nature of politics," Scotland added, while encouraging those male leaders to create an environment that that is welcoming to good, decent and hardworking women.
Scotland said it is her belief that women can serve, and serve well, in the political sphere.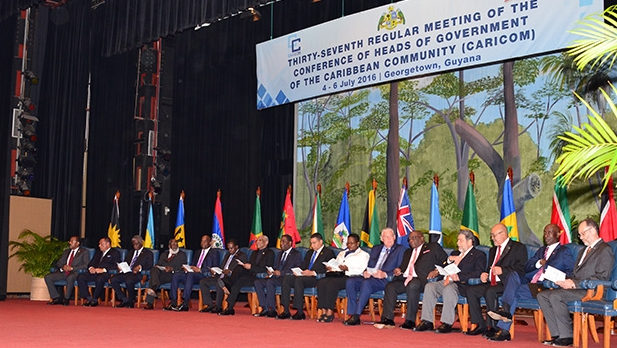 She is also calling on women themselves to come forward and take up leadership positions in politics too.
After 43 years of CARICOM, only four female Heads of Government have ever sat in this type of caucus.
The most recent women to serve in CARICOM as Heads of Government were Trinidad and Tobago's former Prime Minister, Kamla Persad-Bissessar and Jamaica's former Prime Minister, Portia Simpson-Miller.
The other women are the late Janet Jagan, former President of Guyana and the late Dame Eugenia Charles of Dominica, who was the first female to be elected as a Head of Government in the Region. (by Kurt Campbell)