After taking a one-day break from the picket line, scores of teachers from various schools around Georgetown gathered this morning outside the Brickdam Office of the Minister of Education to restart their picketing and protest.
Showers from above were seen more as blessings than a hindrance to the protesting teachers, as many of them came armed with their umbrellas.
The teachers raised their voices loudly in protest of the ongoing impasse over salary increases.
One teacher arrived on the scene with a pressure cooker and said it was time to "soften" some of the toughness of the Education Minister.
"Time to pressure Nicky, Time to Pressure Henry", the striking teachers chanted, as schools across the country continue to see empty classrooms as the strike rolls on.
Some of the teachers who were part of the protest today came from as far as Soesdyke and said they wanted to be present to send a strong message to the Ministry of Education and the Government.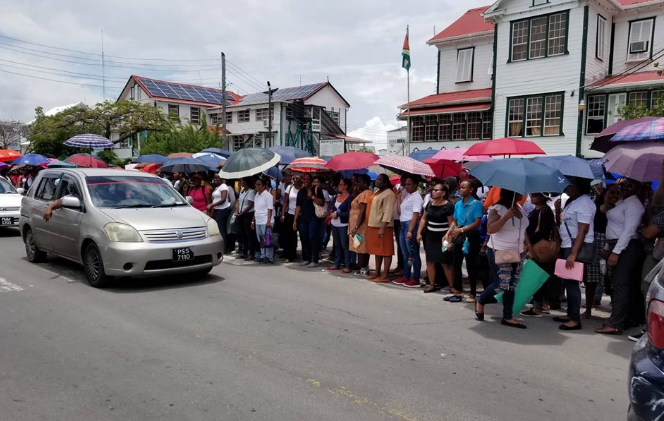 Many of them explained that the Government should offer them at least 15% if it cannot afford the 40% demand.
"We are looking for an increase, while the union is negotiating, we are hoping for nothing less than 15% to 25% the least, and we would accept that", an East Ruimveldt School teacher told News Source.
President of the Guyana Teachers Union, Mark Lyte, was at the protest scene also in full support of his teachers.
Questioned by News Source about the impact of the strike, he said the union was prepared for the long-haul, adding that the Union has not heard anything from the Ministry of Education or the Department of Labour Department since the last meeting for conciliation.
"We will continue throughout the week and in the weeks to come if it demands that", Lyte said.News Source has since learnt that the Guyana Teachers Union and the Ministry of Education are expected to meet tomorrow for another conciliation meeting.
Education Officials are hoping that at that meeting, the stage will be set for arbitration and teachers will return to the classrooms to allow that process.