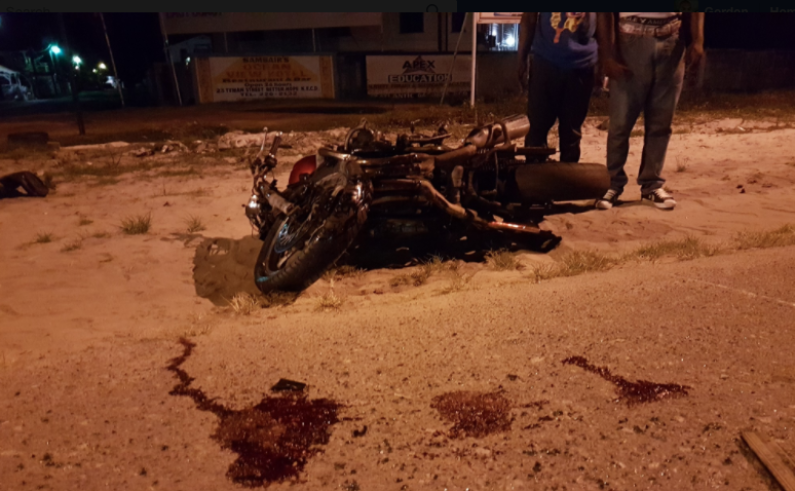 Two men lost their lives on Sunday night in separate road accidents investigations by the Police are ongoing. 
An accident along the Better Hope Public Road, just after 11pm, resulted in the death of motor cyclist, 27-year-old, Cleon Perreira, of 119 Middle Walk, Buxton, East Coast Demerara.
Investigations revealed that motor car PMM 9206 driven by a 19-year-old resident of Montrose was proceeding west along the southern carriageway of the road, when it suddenly turned north into the path of motor cycle CG 1872 which was proceeding in the opposite direction.
The two vehicles collided and Perreira fell onto the road surface and sustaied injuries.
He was taken to the Georgetown Public Hospital in an unconscious state where he was pronounced dead on arrival.
The driver of the car, who was tested and found not to have had any alcohol in his  breath, is in custody assisting with the investigation.
Meanwhile on the East Bank of Demerara, at about 04:25 Feroze Khan, 50 years, of Yarrowkabara, Soesdyke/Linden Highway lost his life.
The accident occurred at Land of Canaan and involved motor car HC 8204 driven by a 33 year-old, Forshaw Street, Queenstown, Georgetown, and motor car PGG 8696 that was driven by the deceased. 
Enquiries disclosed from the driver of motor car HC 8204 that he was proceeding north along the western carriageway when motor car PGG 8696 which was proceeding  in the opposite direction suddenly made a U-Turn into the his path and collided.
As a result of the impact, the driver of PGG 8696 was taken out of his vehicle in an unconscious state and rushed to the Diamond Diagnostic Hospital where he was pronounced dead on arrival. 
The body is presently at the Lyken's Funeral Home awaiting a post-mortem examination.
Police said a breathalyzer test was administered to the driver of HC 8204 and no trace of alcohol was detected on his breath. He is in custody and is assisting with the investigation.