Two gay sex workers were found murdered early on Sunday morning in Georgetown in what police investigators believe may be two coordinated attacks.
The bodies of the two sex workers were found in two different parts of the city. The body of Jason John was found in Leopold Street while the body of Carl Sinclair was found in Lombard Street which is located West of Leopold Street. Both bodies bore multiple stab wounds to the chest and stomach area.
Police investigators believe that one man may have carried out both attacks.
A taxi  driver said he was driving along Lombard Street just after midnight when he saw a person running onto the roadway clenching their stomach and claiming that they had been stabbed.
The taxi driver told News Source that he wasn't too sure if the person had been stabbed and he feared it may have been a set up to rob him, so he continued driving and hurried across to the Police outpost at the Stabroek Market where he told the officers what he had just witnessed.
He said the police officers were at first hesitant to go the  scene but eventually called in other officers and rushed across to the Lombard Street location where they discovered the bloodied body of  Carl Sinclair dressed in woman's clothing and wearing a wig, sprawled on the pavement.
While one group of policemen remained at that scene, investigators received a call that there was a second bloodied body lying on Leopold Street which is two corners away.
At that scene, persons in the area, had already converged and investigators were forced to ask them to move back as many persons rushed to the scene to see the body of Jason John who was also a sex worker.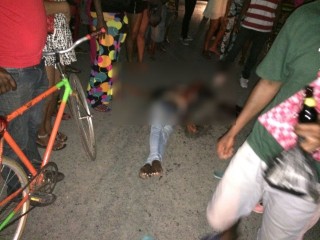 A number of other gay sex workers gathered at the scene and one of them told News Source that earlier in the night there was an attempt by a man to set one of the sex workers on fire just in the vicinity of the St. George's Cathedral.
The sex worker said there was an argument with an East Coast man earlier in the night over one of the other workers that he reportedly shared a relationship with. The man first left the scene but returned with gasolene and threw it on one of the workers and attempted to light the sex worker on fire when other workers of the night rushed to his aid and the man escaped.
They all seem convinced that the same man may have been responsible for the two deaths since he issued several threats while running away from the scene.
Persons in the Leopold Street area said they heard no screams or calls for help and were shocked when someone passing through the street raised an alarm after spotting the body lying motionless in a pool of blood.
Police investigations are underway.
20/7/2014