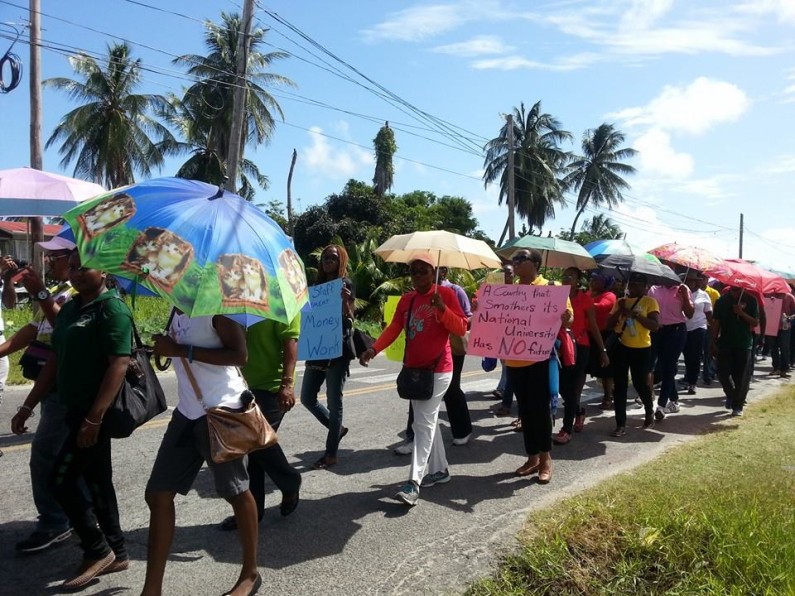 Staff members of the University of Guyana intend to continue with their strike action as the University's administration continues to make clear its inability to meet their demand for a 60% increase in wages and salaries.
On Monday, the staff members held a protest March from the University's Turkeyen campus to the city to step up the pressure on the University's administration and the government to look into their concerns and demands.
Last week, the staffers wrote President Donald Ramotar seeking a meeting to iron out  their concerns and asking for his intervention in the situation. The president is still to respond to the letter.
President of the University of Guyana Senior Staff Association (UGSSA), Melissa Ifill told the media on Monday that the full strike action will continue until their concerns are addressed.
"We are on full strike indefinitely. We are not returning to the classrooms and we are not returning to our offices. We will remain out of the offices and out of the university until we get a settlement and until we get an offer that we can live with. That is our position and we had stated that quite clearly from last week and we continue to maintain that position", Dr. Ifill said.
She further stated that staff members are "willing to compromise" on their 60% increase in salaries demand. Dr. Ifill explained that the staff members had made it clear to the University that it would have accepted a 25% increase per year over the next three years. The University instead, offered the staff members a 25% increase that would have covered all three years. That was rejected.
Dr. Ifill said once the university removed its offer off the table, the workers also removed their offer and as such it  is now back to the 60% demand.
The Ministry of Labour has still not intervened in the matter and the unions representing the staff members and the workers themselves have said that they find the silence from the Labour Ministry very interesting.
The Labour Ministry wanted the workers to return to the  job before negotiations could begin.
The University of Guyana Senior Staff Association said it finds it strange also that government functionaries have been commenting on the protest in the media but have never invited the workers or their unions to any discussion on their plight.
The strike which is in its third week has crippled classes at the University. The Student Society at the University has indicated its support for the staff members but has been relatively quiet over the past few days on the issue.
Filed: 16th February, 2015