The United Nations (UN) Office on Drugs and Crime said the previous People's Progressive Party (PPP) administration was not forthcoming with information on corruption as it pledged renewed support to the coalition government in its fight.
Regional Representative Amado Philip de Andres told media operatives that the Office received no response from the PPP administration when it sought to solicit information under a review of the UN Convention Against Corruption, to which Guyana is a signatory.
"It is also important to note that with the previous government the UN had a lot of problems because the Government of Guyana is party to the UN Convention Against Corruption and now we are reviewing the implementation by the Guyanese authorities, we never obtained any response," he explained.
He made the disclosure while meeting with Attorney General Basil Williams at his office on Wednesday.
The Regional Representative said he is very happy with the new government's response. "We are obtaining strong response that the fight against corruption is for real." He disclosed that the Office is looking to offer support in the prevention, investigation and prosecution of acts of corruption and money laundering.
The Office has also pledged support in helping the government with its asset recovery programme. "One option is to support the government with the establishment of UN Advisor Prosecutor on corruption that will work to mainstream legislation and that future investigations on corruption are carried out in right way," Amado Philip de Andres added.
He said as soon as the government accepts the proposals, the Office is ready to move ahead with implementation.
Meanwhile, Attorney General Basil Williams reiterated the government's commitment to fighting corruption. He said the government is willing to meet the UN halfway and is prepared to make the necessary legislative changes.
"We are interested in anti-corruption … in the opposition we fought against corruption in the last government and we are interested in correcting corruption, we welcome the proposals and believe the discussions have opened avenues," he added The UN Office on Drugs and Crime is a specialized agency that works closely with the UN Resident Coordinator in Guyana.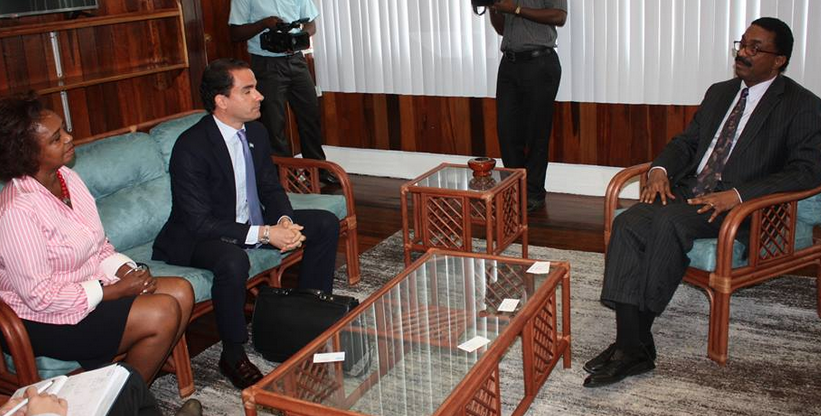 The team on this initial mission with the new government held discussions with Prime Minister Moses Nagamootoo.
The team also held discussions Minister of Governance Raphael Trotman during which it proposed the establishment of network of compliance officers and the introduction of an Anti – corruption Diploma that government officials within various Ministries will pursue.
The Office said it also plans to work with the private sector, which it believes has a major role to play in the fight against corruption, and that fight should be hand in hand with the government. (Kurt Campbell)