The U.S Embassy in Georgetown on Wednesday evening honored human rights and Lesbian, Gay, Bisexual and Transgender activist Zenita Nicholson as its International Woman of Courage.
According to the U.S Embassy the award is about courage and leadership and the civil society activist embodies those qualities in her work and commitment to ensuring change in the society.
U.S Charge d' Affaires Bryan Hunt told a reception at his Turkeyen residence that Zenita Nicholson exemplifies the traditions of personal freedom and equality that remain shared values between Guyana and the United States. He said "Zenita's advocacy with the government, local politicians, and the UN Human Rights Committee secured a commitment from the Government of Guyana to initiate a national dialogue on the decriminalization of LGBT activities."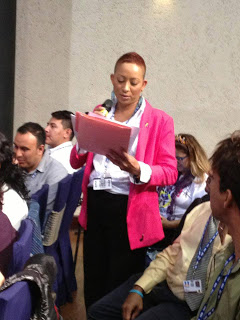 The U.S diplomat underscored his country's commitment to working in partnership with local organizations to establish social equity and access to essential social services for all people of Guyana, specifically to increase participation of and support for women, LGBT, indigenous, and vulnerable populations.
"We have valued the work that we have been able to undertake thus far in partnership with civil society leaders such as Zenita and we look forward to building on this partnership as we work within the Guyana government and in civil society to achieve this shared goal", Hunt said.
In thanking the U.S Government for its recognition of her work and commitment, Zenita Nicholson who has represented Guyana at a number of international human rights meetings said although she is being honoured for her courage, "I have no courage; not compared to those who inspire me to advocate for equality, human rights and dignity."
She said she is inspired by the courage of lesbian, gay, bisexual and transgender people living in Guyana, a country where adult same-sex intimacy and cross-dressing is criminalised and highly stigmatised.
"I am inspired by ordinary Guyanese who dare to express their sexual orientation and gender identity and by those whose daily lives are filled with violence, rejection, abuse and discrimination; by those who are being denied their right to work, health, education and freedom of expression, and other basic rights that many o us take for granted", Nicholson told the gathering.
She remembered her own upbringing and her fight from since then to share the same rights with her brother. She singled out the head of PANCAP Dereck Springer and Co-Chair of Society Against Sexual Orientation and Discrimination, Joel Simpson and some of the persons who have accompanied her on her journey of courage. The award she said, was dedicated to the many persons who don't have a voice and who long for equal rights.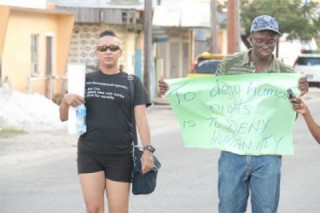 Zenita Nicholson has been at the forefront of many local and international debates and conferences on human rights and rights for the LGBT community. She is currently the Country Coordinator for the Caribbean Vulnerable Communities/PANCAP Global Fund Round 9 "Vulnerable Groups project" and also sits on the Board of SASOD.
The International Woman of Courage Award was established by the U.S Secretary of State in 2007 to recognise the work of women around the globe who showcase exceptional courage and leadership in advocating for human rights, women's equality, and social progress, often at great personal risk.
Zenita Nicholson is the first Guyanese woman to receive the special honor and the U.S Embassy intends to make it an annual recognition.