The United States government is continuing efforts to assist the Guyana government in the strengthening of the criminal justice system in the country.
The US Embassy in Georgetown on Friday launched a three year programme specifically tailored to strengthen the criminal justice system in Guyana.
The programme will cover various aspects of criminal justice from investigation to prosecution and the administration of Justice in the courts.
The Police Force, Public Prosecutions Office and the Judiciary are the agencies that will be heavily supported under the programme.
At the launching on Friday morning at the US Embassy, US Ambassador Perry Holloway explained that the programme falls under the State Department's Bureau of International Narcotics and Law Enforcement Affairs and the Caribbean Basin Security Initiative. The three year programme is being funded by the US to the tune of over US$946,000.
Mr. Holloway said the main objective of the programme will be to increase effective criminal investigation in Guyana that leads to strong prosecutions and trials, by boosting the technical capacity of the police, prosecutors and magistrates to work with criminal evidence in a supportive environment.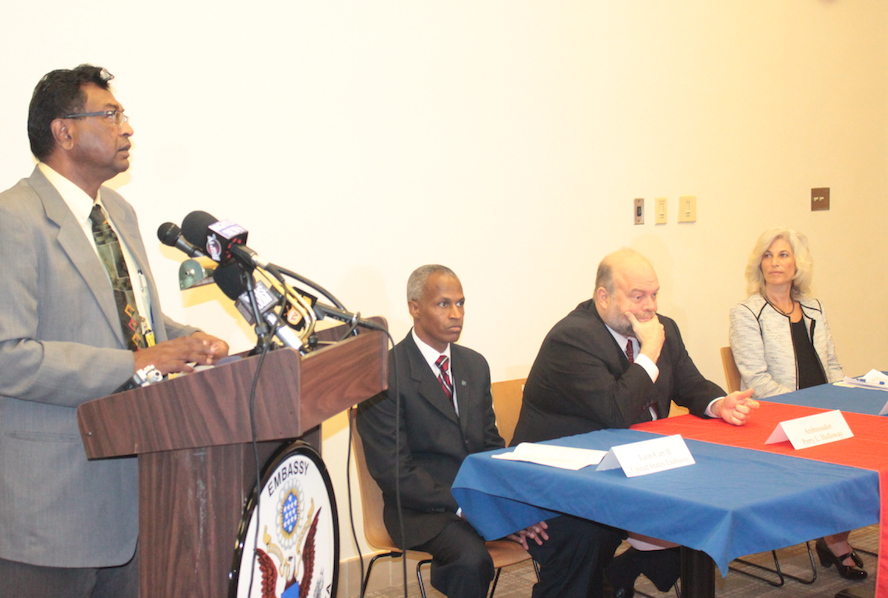 The Ambassador said the US wants to continue to assist the Government of Guyana Criminal Justice entities to improve their knowledge, skills, abilities and collaboration with each other.
"Increased knowledge, skills, abilities and collaboration means increased capacity to get better results. That is something we all want and will continue to strive for", Holloway said.
Guyana's Minister of Public Security, Khemraj Ramjattan, welcomed the new programme and said it will assist the country greatly in the area of justice delivery. He said the programme follows on the heels on a Canadian Justice Reform Programme  and he believes that when the British Security Sector Reform programme comes on stream, all of the sectors will work hand in hand.
Canada's Justice Education Society has been contracted by the US government to implement the programme in Guyana.  Several broad areas will be visited under the programme including video evidence and the use of video evidence. Additionally, other areas of evidence gathering and presentation will be addressed.