The US Government through its embassy in Guyana has pledged to continue assisting Guyana in its efforts to take on its security challenges.
That assurance came from US Ambassador Perry Holloway on Monday during a presentation of US$20,000 in equipment to the Guyana Police Force.
The Ambassador said despite a reported 11% decrease in serious crimes, more effort is still required to disrupt and defeat transnational threats and sustain public security, adding that informed decisions and sound strategies by policy makers enhance the effectiveness of the many who have received training and technical assistance from the U.S. government.
"The Strategic Planning Unit is tasked with bringing harmony to these strategic law enforcement policies.  The U.S. Government's donation today is intended to enhance the operational capacity of the Strategic Planning Unit.  It is our hope that our contribution will aid the Unit in its mandate and, by extension, assist the Guyana Police Force in its crime fighting efforts", Ambassador Holloway said.
He reminded that the donation was just one of the most recent forms of assistance that the U.S. Government has provided through the Caribbean Basin Security Initiative (CBSI).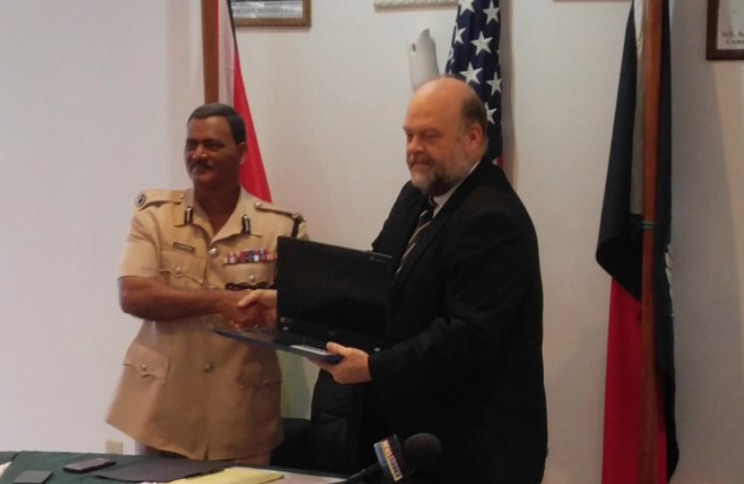 He recalled that since the establishment of CBSI in 2010, the US Government has heavily supported efforts to combat the drug trade and other transnational crimes threatening the region through capacity building and equipment donations like this, adding that "the specific programs that US Embassy Georgetown administers seek to strengthen are law enforcement capabilities; counter illicit drug flows; combat transnational crime, and promote the rule of law."
The US Embassy handed over laptops, flat screen sets and other pieces of equipment to assist the Guyana Police Force in its work.
Acting Police Commissioner, David Ramnarine expressed thanks on behalf of the Police Force and said he looks forward to more support from the US Embassy.