Executive Member of A New and United Guyana (ANUG), Kian Jabour is calling on the Ministers of Amerindian Affairs, Education, Home Affairs, Health and Local Government to step down from office pending the completion of an independent Commission of Inquiry (COI) into the deadly Mahdia Dormitory fire that claimed the lives of 19 children, while critically injuring several others.
Convinced that it was negligence, and a clear dereliction of duty that resulted in the deadly blaze, Jabour has been protesting outside State House and the Office of the President, demanding justice for the lives lost.
Today, he told News Source that based on preliminary investigations, the dorm lacked basic Fire Safety Equipment, and the Government officials must be held accountable over their failure to ensure that the proper safety systems were in place at the living facility for children.
"These children were in the care of the Government. They were in a government school. If we were to use a juxtaposition, for example, and a candle fell while they were in this building and started the fire, the real question is, would the result have been the same? And the answer is yes. Why? Because, you come back to your neglect of your duties as a government official, as a minister, which is in charge of ensuring that all the basic protocols and systems are put in place to protect these children. So, for example, there was no fire extinguishers, there was no sprinkler system. There was no smoke detector for early detection. The fire truck showed up and there was no water," Jabour said.
Mr. Jabour said to further compound the situation, when the fire victims were rushed to the Mahdia Regional Hospital, the hospital was short on basic medical supplies, and was unable to adequately tend to many of the victims.
 "Obviously, there were not enough supplies, there was not enough professionals, there were not enough nurses, doctors, they were just really unprepared…But I think that is something that will resonate probably most with Guyanese…the truth is, even in the schools, I think teachers themselves now are sitting down saying wait a second, look at our school, we're not even close to prepare. If there was a little fire here, if somebody was playing with matches, if an electrical outlet had some sort of malfunction, we will go up in flames just like that. So again, back to the medical staff, they are in the exact same position," Jabour said.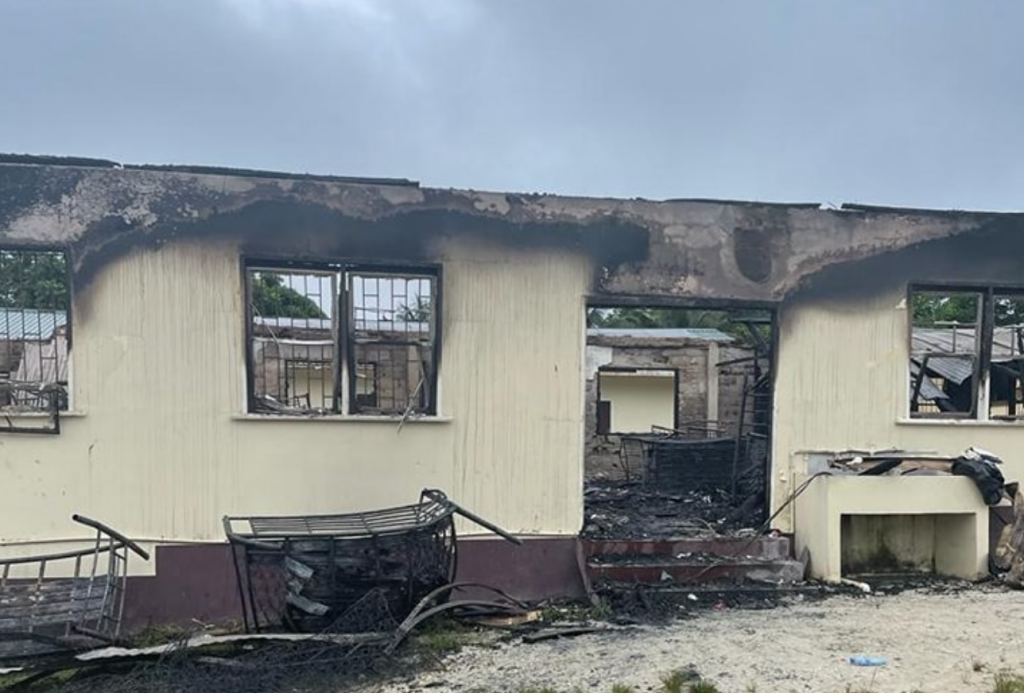 He said while Government is known for taking credit for the construction of schools and dorms across the country, it has fallen short in taking responsibility for the fire that killed the 19 children. He said too that one week after the deadly blaze, the Government has not apologized to the nation for failing the victims and their parents.
Jabour said while President Irfaan Ali has announced that a Commission of Inquiry (COI) will be launched to investigate the causes and circumstances of the fire, it would be of no consequence, if it is not done independently.
"The first thing we would like is for it to be independent. The government should not be investigating themselves. The second part of it, is in order for a proper independent investigation to happen free of interference, then those that are being investigated should be stepping down to allow that investigation to take place. Because, if you have a sitting minister, obviously, they will need to deal with government protocols, them having to perform their duties and these are adding issues and roadblocks in a proper investigation being done. They cannot be sitting in office while they are being investigated for not doing their job while in office," he reasoned.
According to Jabour, the COI should be conducted by regional and international professionals, and its findings should influence Government's next course of action.
He said Guyanese deserve better, and such an incident should never occur again.
"What we are watching, is all the cries of progress that you are hearing from the Government. But we are watching systems fail, and fail and fail. And what I'll add to that, if we are screaming progress, and we are saying that we have so much money like other progressive countries around the world, then why are we not holding our government to the same accountability," he said.
The Opposition Leader, Aubrey Norton has also called for the Ministers of Health, Education and Public Works to set down due to their failure to ensure that requisite safety mechanisms were in place.
(Svetlana Marshall)