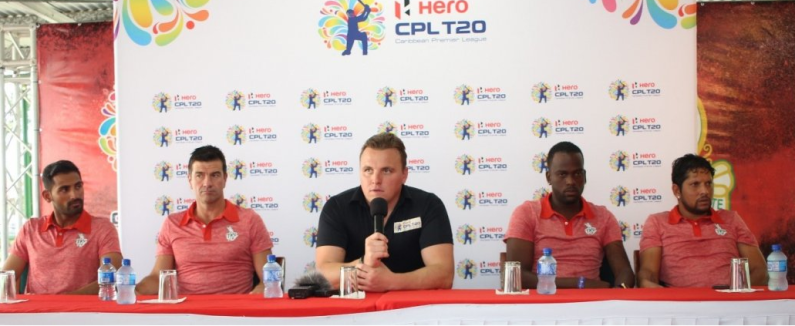 As excitement heightens around the much-anticipated Caribbean Premier League, founding partner, Digicel, announced that it has re-signed a multi-year contract as official telecommunications sponsor of the League. The deal comes on the heels of Digicel's new four-year agreement with the WICB and therefore represents a significant investment in and commitment to cricket in the region.
Through this partnership, Digicel will keep cricket fans at the edge of the excitement of the 34-game tournament with a host of engaging and interactive activities, including ticket giveaways through social media competitions and half-time shows.
Digicel also promises to 'Bring the Beat' to the CPL party stands across its markets with performances by some of the region's most popular artistes – including Trinidad's soca monarch, Machel Montano. Headlined by Machel, along with Shelly-Ann Fraser-Pryce and Usain Bolt, Digicel recently launched its Bring the Beat campaign which uses music and the celebration of extraordinary sporting talents to connect the world to the Caribbean and its culture – making it a fitting element in the biggest party in sport.
Group Director of Marketing for Digicel, Peter Lloyd, said; "It's gearing up to be an exciting and action-packed CPL season and we're looking forward to leveraging all our platforms to get fans to the games as well as to deliver live match updates to cricket fans and all customers – whether through mobile apps or through social media."
Damien O'Donohoe, Chief Executive Officer of the CPL, said; "We are thrilled to have Digicel on board again for the next four years. Its partnership has helped the tournament to go from strength to strength over the years and can only get better. The CPL is now one of the top three T20 tournaments in the world and something that the people of the Caribbean should be very proud of. We have attracted some of the biggest names in world cricket and are set for another memorable campaign for the biggest party in sport.
"CPL has big ambitions to grow the tournament even further and having sponsors such as Digicel on board will help us extend our brand both locally across the Caribbean and north America, and beyond.
"Without Digicel, CPL would not be possible and we are indebted to its support. Digicel has demonstrated its commitment to West Indies cricket for many years and has played a big part in the success of the men's, women's and Under-19 teams in recent months. On the eve of the fourth instalment of CPL, it is an enormous boost to extend our partnership and we look forward to continuing our strong work together over the coming years."
Digicel also commits to continue to nurture and grow cricket in the region by developing grassroots and high school programmes to and create a platform for young cricketers to always put their best foot forward. As such, other activities on Digicel's CPL agenda include school visits as well as hosting kids at each game across the region.