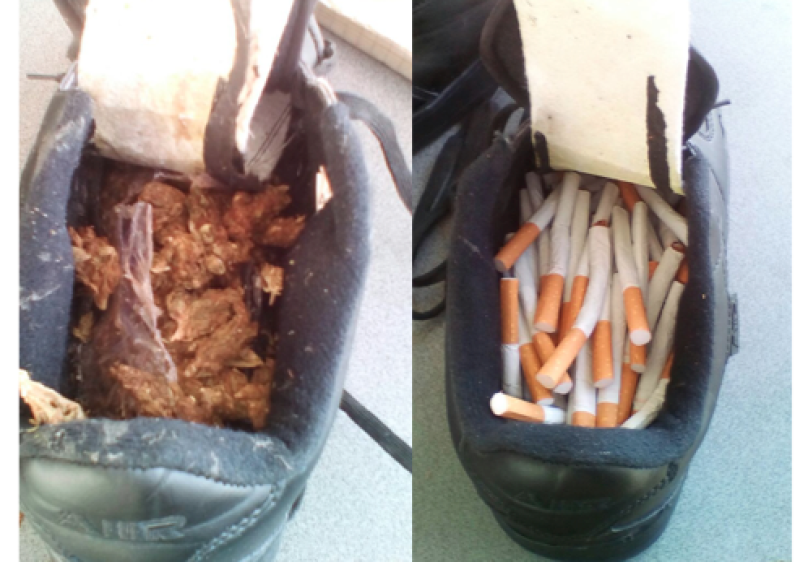 It was another weekend and another attempt to smuggle prohibited items into the Lusignan Prison.
Acting Prison Director Gladwin Samuels has reported that just after 2:30pm on Sunday, a man who arrived at a checkpoint outside the prison to deliver clothes and footwear for a prisoner, ran from the area just as Prison security was preparing to inspect the items.
Prison officials realized that the pair of shoes appeared extra bulky.
As soon as they picked up the shoes to examine them closely, the man who had brought the shoes for the prisoner bolted from the scene.
At the bottom of the shoes, the prison officers found four packs of cigarettes and one hundred and eight grams of marijuana. They have provided a description of the man to police investigators.
And yesterday also, while conducting regular searches of the prison yard, at the same lusignan prison, prison officers discovered a black bag in the drain close to one of the pig pens at the prison compound. When they inspected it, they found several grams of marijuana and other prohibited items.
Over the past few weeks, the prison service has thwarted several attempts to get prohibited items into the prison. But in all of the cases, the persons attempting to get the items into the prison compound were able to escape.
An investigation is underway into this latest case.