Leader of the Team Benschop group and Georgetown Constituency #4 Candidate, Mark Benschop is not happy with the public relations efforts by the Elections Commission to properly inform and educate the public about the local government process.
Local Government Elections will be held on March 18, 2016. The last time Guyana hosted local government polls was back in 1994.
During an interview, Mr. Benschop related that because of that more than 20 year gap, the Elections Commission should have been doing a far better job at its public information efforts.
He said he and his team have found themselves doing more education than anything else about the local government process, on the campaign trail.
"Millions of dollars have been pumped into GECOM and for this last-minute, people still do not really understand what it is that they have to do. And for us at Team Benschop, we find that 95% of our time out there, hitting the streets and knocking on doors, we have to explain the process and that is unfair to groups and independent candidates", he said.
Despite that issue, Benschop said his team is ready for the elections. He said he is happy that President Granger saw it as a priority just after taking government, to announce a date for local government polls. Benschop has been calling for local government elections for over 15 years. His calls went unanswered during the PPP's time in office.
The political and human rights activist said he wants voters to understand that his group is not contesting the elections to overthrow or challenge the government, but rather it wants to assist the government in its development plan for the city.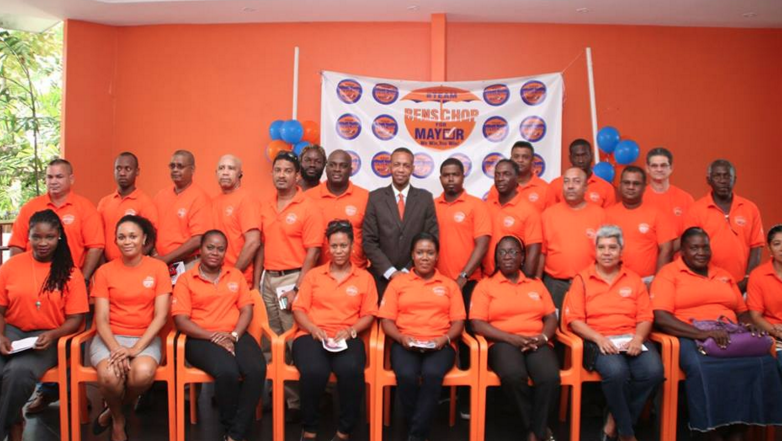 Campaign Manager for Team Benschop, Ronson Gray, while encouraging persons to vote for the Umbrella symbol, said he still believes that the bigger parties should have stayed away from contesting the elections and leave it to the smaller groups and independent candidates to contest the polls.
"There is no law that prevents them from participating but we think that in the spirit of what local government are about, the major parties should not have participated but we still have a job to do", Gray said.
He noted that Team Benschop intends to continue its campaign by going door to door and getting citizens to truly understand the advantages of voting for a candidate who is more connected to their community.
Team Benschop recently launched its manifesto and has the strategic management of City Hall at the top of its plans. The group also intends to focus on job creation and the creation and maintenance of a cleaner Georgetown.
According to the Campaign Manager, although citizens will not be voting for a Mayor, the group has been making an effort to get people to understand that a vote for any one of the candidates from the Benschop group is a vote for Mark Benschop himself to serve as Mayor since the Mayor will be chosen by a majority of councillors.