General Surgeon at St. Joseph's Mercy Hospital and Former Board Member of the Georgetown Public Hospital Corporation, Dr. Surendra Persaud is confident that the opposition coalition can turn around the public health care system to ensure greater accountability and value for money.
The Berbice born Doctor and former Queens College student is a Candidate on the APNU+AFC's list for the upcoming elections and says he stands ready to offer his expertise, having studied and worked abroad, to an APNU+AFC government to improve the public health care system.
Dr. Persaud returned to Guyana in 2002 and has been in private practice since but assures that he's very aware of the discrepancies which plague the overwhelmed public system. He believes most striking is the disparity in health care when the private system is compared to the public across the regions and more particularly in the capital, Georgetown.
 The APNU+AFC member said the problem in the public system is significant in that roles are not clearly defined and the system is not subjective to business practices of governance and management.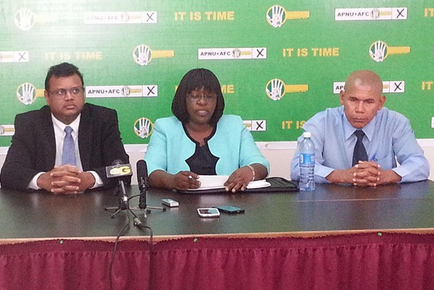 "If you're planning properly how do you end up with two mothers and two babes on a bed?" he questioned as he made his case relative to unaccountability.
In an interview with News Source on Tuesday, Dr. Persaud stayed clear of criticizing individuals but said he is confident that Guyanese have seen the discrepancies just as he has, and will support the coalition to bring about a change.
The Surgeon, who has worked with the ruling People's Progressive Party Civic in the past, told News Source that he has been asked by the coalition to sit with a group of physicians, both local and from the diaspora, to assess Guyana's health situation and make recommendations for improvements. He has agreed to the move.
"When we win the election, if asked by the coalition to serve in any capacity I am willing and ready," he asserted.
He said he remains interested in working with any government to improve health care across Guyana.
"In the coalition I have found a group of persons who give true meaning to inclusive democracy and treat each other with a great degree of mutual respect. We recognize that as human beings we have differences and we approach those differences in a constructive fashion," he told News Source.
In his endorsement Dr. Persaud said the APNU+AFC represents a mature inclusive government with individuals who stand to be truly the servants of the people.
Dr. Persaud said governments must stop treating the public and private systems differently and hold both systems to the same standards in the delivery of health care as he made out his case on the lack of accountability.
He acknowledged that steps in this direction have been taken with the passage of an Act that applies same rules to private and public systems.
A leaked draft of the coalition's manifesto proposes to launch a national health care programme focusing on all community health centers across Guyana to provide preventative care for medical diseases such as diabetes, malaria, heart disease and cancer screening.
The coalition also plans to put patient's first buy introducing a Patients' Bill of Rights and other training and accountability initiatives to improve public health care.