Miss Guyana Earth, Xamiera Kippins, inched closer towards the Miss Earth crown when she captured the gold medal for South America at the Miss Earth Costume Competition.
The competition is taking place in The Philippines.
Miss Guyana displayed a Randy Madray illustration of Guyanese folklore – The Ole Higue as part of her competition.
Peru and Ecuador were awarded the Bronze and Silver medals respectively.
The Ole Higue is a creature of Guyanese folklore that has been associated with a combination of similar beliefs passed down from the various cultures existing in the country.
In other countries and provinces the creature is known as the soucouyant or fire rass and is almost always associated with the visage of a lonely old woman by day.
However at night, she sheds her ragged skin and stores it in a shell and takes on the form of a figure of fire. Some who have claimed to have seen an Ole Higue have compared it to a fire ball while others have called her an elegant but terrifying figure covered in flames.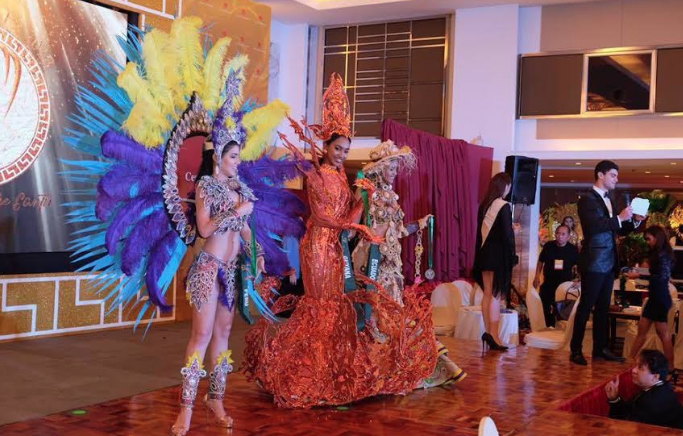 She is known to enter the houses of newborn children through a crack or crease in a door or even through the keyhole and once in, she feeds off the blood of the infant. To stop her, the family of the new born must either draw a chalk line by their main door, or lay a broom made of the fibre of coconut branches by the said door.
The most popular method however is to scatter rice grains at the doorstep; Ole Higue is obligated to count every single one before entering and if she loses count, by nature she needs to restart counting. This would lead her until dawn when she is discovered and put to justice. Miss Earth Guyana dons a rendition of this mythological creature, designed by Guyanese designer, Randy Madray to capture the beauty and terror of the Ole Higue.