Former Acting Chief Magistrate Priya Beharry and former Deputy Director of Public Prosecutions Jo-Ann Barlow were today sworn in as Puisne Judges by President David Granger during a brief ceremony at the President's Office. 
Both women have given several years of service to the public in the legal field and were tipped to be promoted just before the change in government last month.
The President has indicated that he will be looking to fill other vacancies that exist for Judges and Magistrates in the near following consultation. 
Chancellor of the Judiciary, Justice Carl Singh along with Director of Public Prosecution Shalimar Ali – Hack, Speaker of the National Assembly Barton Scotland and a number of government officials were present at the swearing in of the two new judges who both pledged their commitment to the job.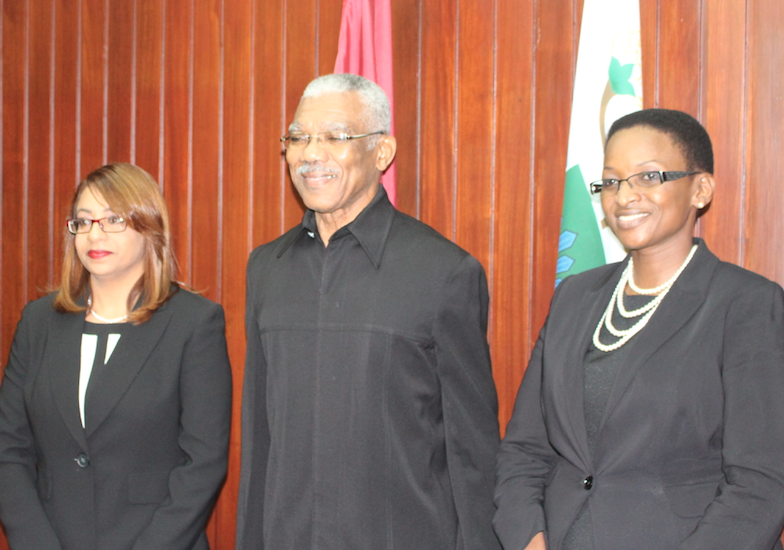 In an invited comment Justice Barlow said "there is no one feeling that I can tap into because as happy as I am about today, I am also sad about leaving where I worked for most of my working life and that is in the Chamber of the Director of Public Prosecutions. But I am sure that in the days ahead my feeling will find balance and I will happily pursue that which is assigned to me."
Justice Barlow is married to Speaker of the National Assembly, Dr. Barton Scotland.
In a similarly brief comment, the Justice Priya Beharry said "I will bring what I have been brought for the last ten years. I promise to serve my new office without fear or favour."
The two new judges have given their commitment to complete all matters expeditiously in the local justice system which continues to face criticism over slothful prosecutions.