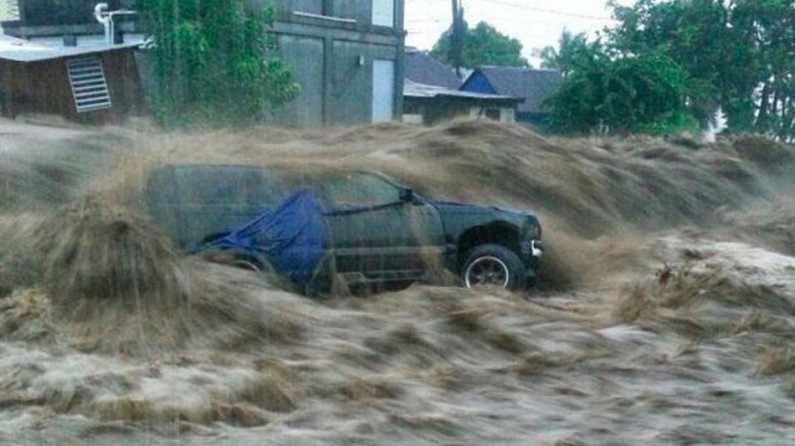 (Weather.com) Tropical Storm Erika has brought deadly flooding and mudslides to parts of Dominica in the Lesser Antilles, washing out roadways and collapsing at least one building.
The Associated Press said 4 people have been killed in the flooding and mudslides created by Erika's torrential rain. A blind elderly man and two children were killed in southeastern Dominica, and another man was killed in the country's capital of Roseau, the report said.
Several others remain missing and at least 20 homes have been destroyed in the storm, the AP also reported.
"The situation is grim. It is dangerous," Ian Pinard, Dominica's communications minister, told the AP.
Social media users posted images and video of a raging Roseau River Thursday morning as several bands of heavy rain pounded the small island nation.
Overnight Wednesday, nearly 9 inches of rain fell in a six-hour period at the Canefield Airport near Roseau, Dominica, according to local storm reports.
The Associated Press reports that governments in San Juan, Puerto Rico, have ordered schools, airports and even casinos to close as they begin to prepare shelters. 
Schools and government offices in St. Maarten will be closed Thursday, and officials asked casinos, restaurants and other businesses to close by midnight on Wednesday. They warned that they may temporarily suspend power and water service as the storm continues to approach.
Government offices in the U.S. Virgin Islands will be closed and all airports in the U.S. Virgin Islands will be closed until Friday, Gov. Kenneth Map told the AP.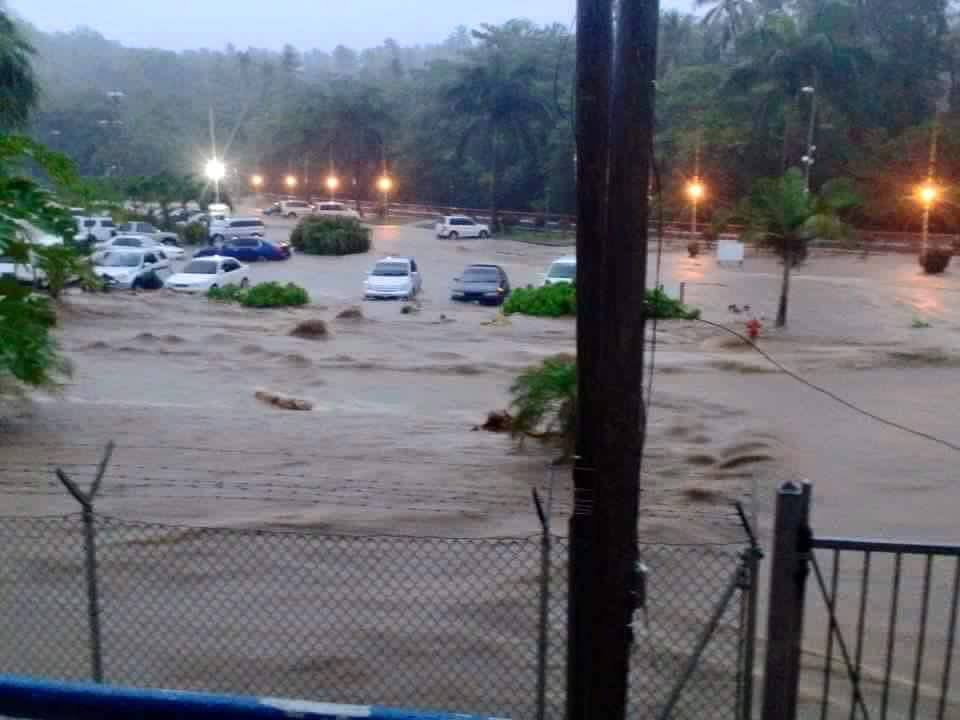 Boats docked at Shell Beach Marina on Antigua's north coast have been removed from the water since Saturday, with people not taking chances as Erika approaches, marina employee Caroline Davy told the Associated Press.
Seaborne Airlines and LIAT, based in Puerto Rico and Antigua respectively, have canceled more than two dozen flights through Friday due to the storm. Officials in Puerto Rico said they will suspend ferry transportation between the main island and the sister islands of Culebra and Vieques on Thursday.
Cruise line Carnival was forced to cancel its St. Maarten and St. Kitts stops due to the storm. The itinerary has been adjusted to have the ship spend two days in San Juan before continuing to Grand Turk and the addition of Nassau. 
Tropical storm warnings have been issued for the U.S. and British Virgin Islands, Puerto Rico and the Leeward Islands. 
The State of Florida Emergency Operations Center has activated to level two in preparation for possible impacts from Tropical Storm Erika. 
"We are preparing the protective and responsive measures we will need if the storm continues to develop out of an abundance of caution," said FDEM Director Bryan W. Koon.
Boat owners and area marinas in South Florida have begun to make their own preparations. Sailfish Marina dock master Austin Peters told WPTV that a handful of captains have already moved their boats to safer areas. According to him, if there is a hurricane warning, all boats are required to leave the marina, which can be difficult because many of the boat owners live out of state.
"Usually some people will go south or north to avoid the storm, or they will go to a dry dock where they will be lifted out of the water," said Peters.
Boaters will be encouraged to add lines to their boats to make sure they're secured. The marina also plans to shut down gas and water lines if the storm begins to pose a larger threat.