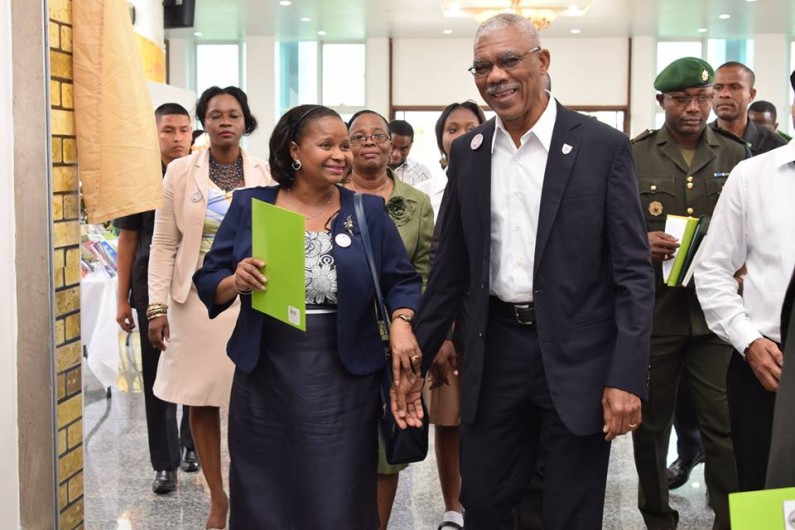 The Guyana Government has been called upon yet again to put its money where its mouth is, as it convened a historic national conference to chart the way forward for a new gender and development policy.
United Nations  Resident Representative in Guyana, Ms. Khadija Musa gave the government a tap on the back for calling together stakeholders but said any policy that is derived from the robust discussions to take place over the next two days must get a "back bone."
She urged the government to not only aid in the crafting of the policy but to ensure it is monitored and fully implemented.
Ms. Musa shared her own experience in pushing the gender equity agenda and further explained that the issues of gender equality was not just an  issue in developing countries but also in developed countries and as a consequence required the full support of all governments.
"I think you are on the right track and I congratulate all of you," Ms. Musa said.
Meanwhile, President David Granger also laid out his vision on which he believes the new policy should be crafted.
The President said women in particular have made strides, coming from an era of discrimination to emancipation, but said the time has come to ensure the full realization of equality for women.
To achieve this in Guyana, Mr. Granger has unveiled a five point plan which includes the eradication of extreme poverty, enhancement of employment opportunities, eliminations of violence against women and the enhanced access to education.
"Attending conferences, signing conventions and passing laws are all necessary but enforcing them is some else," President Granger reasoned.
He said the government will endeavor to do more work to ensure greater compliance.
According to Granger, said the new policy must not promote equality for women only but must be crafted to fight the national cause of both men and women.
The President's vision was backed by that of his Social Protection Minister Ms. Volda Lawrence who told the scores of participants that the aim of government is to develop a society in which all girls and boys, women and men live together in safety, harmony, dignity and mutual respect while reducing inequitable gender relations at all levels of the public sector organizations
"We hope that in time our colleagues in the private sector will come on board to achieve gender equality in Guyana."
In a brief statement, Country Representative of the Organization of American States (OAS) Jean Dormeus said Guyana must be commended for the rights its constitution afford the country's womenfolk, especially for the inclusion women in politics.
He said the Caribbean remains the most in-equal region in the world and as such congratulated the Guyana government for moving the equity agenda forward.
"The OAS acknowledges the urgency of the now and has been providing support to member states to foster gender equality," he pointed out.