President David Granger has recommitted himself and government to ensuring that the social and economic conditions of Guyana's Indigenous people, undergo continuous improvement.
The hopeful promise came as the President delivered the feature address at the opening of the five-day National Toshaos Conference on Monday.
The President said the NTC should no longer be treated as a talk shop, but as a workshop, to ensure that the development of indigenous people is not sidestepped.
"This need to be a forum for planning and problem-solving where the government will be strengthened to advance the social and economic welfare of our ingenious peoples.
This year's Conference theme is "Good Governance – a brighter future for Guyana's first peoples."
Mr. Granger believes the theme is suitable as the Indigenous people come together to discuss and find solutions to several rights issues.
One of those issues that continue to reappear on the agenda is the Indigenous peoples right to land.
The President said it is a known fact that the first peoples have rights to 14% of the country's natural territory but explained that it is no easy task deciding the boundaries of that land.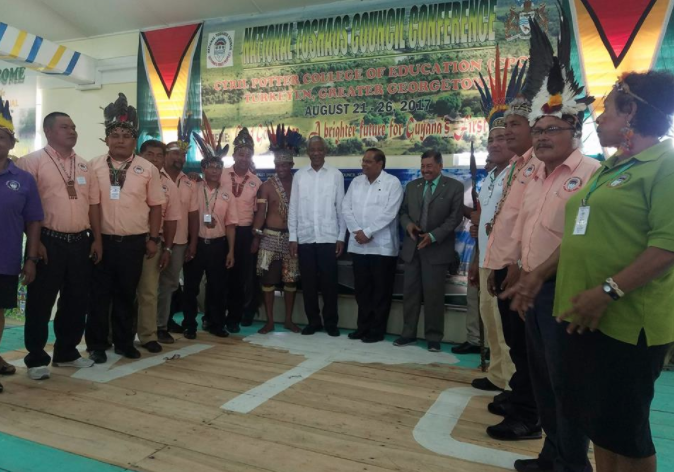 He said the vast land space, isolated communities and communication and transformation difficulties have all contributed to this unresolved issue.
The President has however committed to ensuring the matter is resolved.
He said there are several other issues facing Amerindians that must be addressed while noting that the UN Declaration on the Rights of Indigenous Peoples would be meaningless if the state does not take responsibility for the quality of life its citizens lead.
He said the NTC, under the Amerindian Act, is responsible for promoting good governance which will contribute to the well-being of the people it represents.
As such, the President urged the NTC to plan better if it wishes to improve the quality of lives of indigenous peoples and their communities.
The President said the Government of Guyana through Ministry of Indigenous Peoples Affairs intends to work with the NTC to improve economic and social conditions of the first peoples.
He said this will be done through ensuring that the Indigenous peoples are better educated and have access to schooling.
"Indigenous communities must not feel like they are left behind," he said, while also promising job creation in the hinterland regions in order to fight poverty and unemployment.
The Head of State also encouraged village leaders, Toshaos and residents of hinterland communities not to encourage criminality in their communities.
"The government cannot ignore everyday living condition in hinterland communities and will work to ensure hinterland development." he noted.