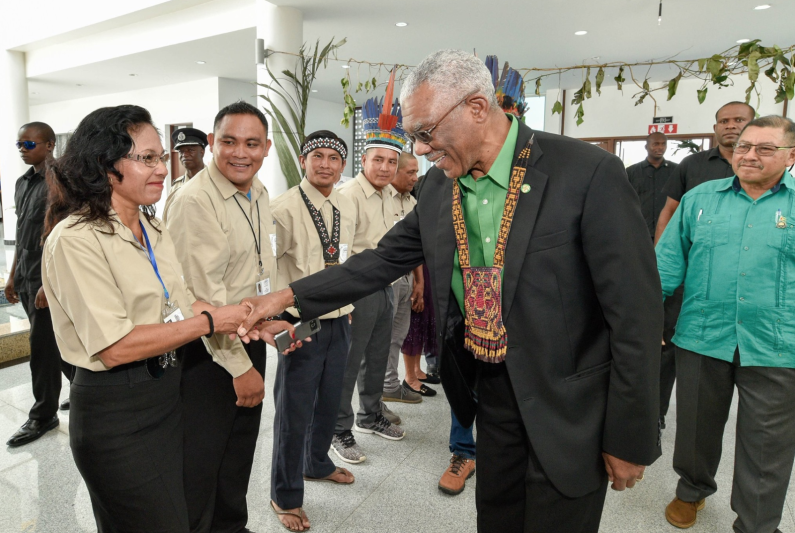 Even as Guyana continues to make steps into becoming a more developed nation, President David Granger is of the opinion that this would be meaningless, unless all citizens are afforded the opportunity to develop themselves.
Speaking at the opening of the 13th Annual National Toshaos Conference, the President focused much of his speech on development in the indigenous communities.
"Human development aims at ensuring the 'good life' for all. Indigenous people inhabit all ten administrative regions of Guyana, mainly in the hinterland. Human development in Guyana, therefore, must mean hinterland advancement", the President said.
The theme of the conference is "Guyana's first people united in the promotion of a green economy through the preservation of our languages, land and rights".
According to President Granger, Guyana is moving towards becoming a more inclusive and equal society.
He said "this means that hinterland human development is imperative – especially in education, health, livelihood and social protection – the four essential fields of existence and human endeavour. Hinterland human development has improved appreciably over the past four years".
In pressing the case of the work that his government has done since taking office just over four years ago, the President said Indigenous peoples are enjoying better access to public education, public health, public information, public infrastructure, public security, public telecommunications and social security.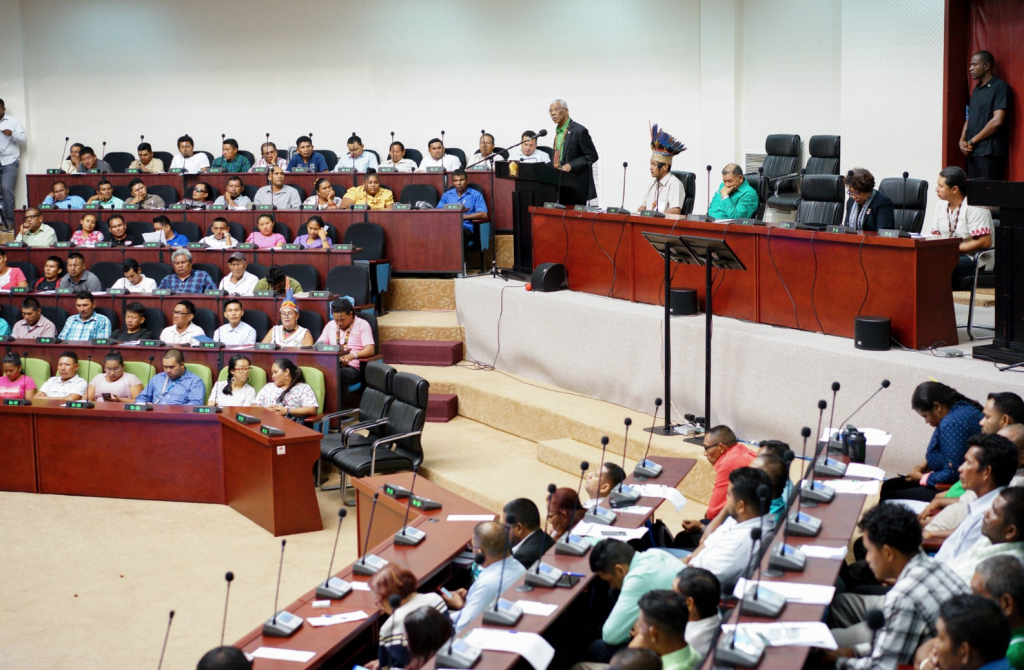 "Progress in these four essential fields of human development – education, health, livelihood and social protection – has been measurable. The persistence and gravity of social ills such as alcoholism, child labour, drug abuse, sexual abuse and teenage pregnancies, however, should not be allowed to derail progress on the path to development", Mr. Granger noted.
He said the conferences of the National Toshao Council are annual opportunities to expedite plans for social and economic improvement.
The conference, he noted, will serve as an occasion for indigenous leaders to review the progress they made in developing their villages, to renew their commitment to improve the lives and livelihoods of their people and to repair or remodel their village improvement plans (VIPs) for future years.
The conference will run until Friday and over the next four days, the representatives from the various communities will look at a number of issues that affect their communities. They are also expected to engage government and other officials with their concerns.