One hundred and thirty seven Guyanese were deported from the United States in 2017, according to figures provided by the U.S Immigration and Customs Enforcement.
In its 2017 report, which was released on the agency's website, the figures represent an increase in deportations to Guyana when compared to the previous year, 2016.
In 2016, ninety-three Guyanese were removed from the United States and sent back home.
For the rest of the Caribbean region, Haiti saw five thousand, five hundred and seventy-eight of its nationals being deported in 2017. That figure represents a massive increase when compared to 2016, when just three hundred and ten Haitians were sent packing.
Jamaica saw seven hundred and eighty-two of its citizens being sent back home last year and there were one hundred and twenty-eight Trinidadians sent back to the land of carnival. Bahamas saw ninety-five persons being deported last year from the US.
The other CARICOM nations saw a small number of their citizens being returned home.
While the report does not offer details on the deportations, the reasons ranged from crime to being in the U.S illegally.
When contacted by News Source, Public Affairs Officer at the US Embassy in Georgetown, Amanda Cauldwell said it's normal to see slight variations in the number of deportees from year to year.
She said the Guyana's figures for 2016 and 2017 are similar to the  numbers for the last five years.
"I can't comment on specific cases, but noting that all deportees' cases were handled appropriately under U.S. law, and all individuals were afforded due process under our judicial system. This includes things like the right to be represented by an attorney, the right to contest charges of deportation, and many other procedural protections", Ms. Cauldwell said.
She also noted that the US Embassy informs the Government of Guyana in advance of all deportations.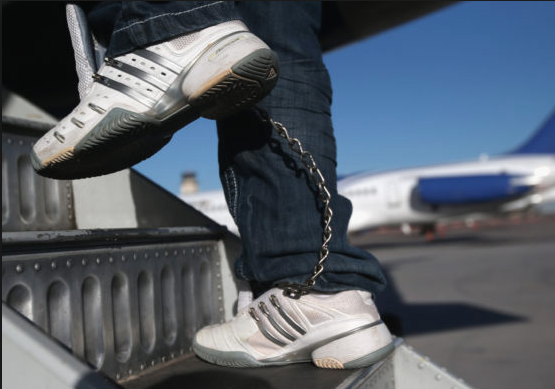 Over the years, there has been concern expressed locally about many of the "involuntary re-migrants" returning to a country and family they do not know. Many of them would have left Guyana as children.
Some have been forced to a life on the streets, while there have been cases of some deportees being caught up in criminal activities.
There have also been cases of many of them being able to land new jobs and starting up small businesses.
Guyana has been looking to set up a permanent programme to assist with the reintegration of the persons who are deported. That programme is likely to fall under the Department of Citizenship and could receive support from the International Organisation for Migration (IOM).
Back in 2008, Guyana had signed a cooperation agreement with the IOM, to implement a project dealing with reintegration. The project got started but never really took off the way that was expected. (Gordon Moseley)