Amidst controversy and criticism over its location at the Kitty Seawall, the 1823 Demerara Uprising monument was unveiled on Monday evening during a cultural programme organised by the Ministry of Culture and attended by the President and other Government officials and special invitees.
Notably absent from the unveiling ceremony were members of the Parliamentary Opposition and members of the African Cultural Development Association.
The monument pays homage to the slave rebellion of 1823 which took place across villages on the East Coast of Demerara. The monument was designed and sculpted by renowned Guyanese sculptor Ivor Thom who provided an overview of the work that he did to come up with the design and final product.
He explained that the monument showcase the resistance by slaves to the slave trade even as it was coming to an end. The monument features a man standing tall with a cutlass in one hand and a large cross attached to chains in the other hand mirroring a rosary. It also features small figures representing women slaves to its sides.
President Donald Ramotar  told the gathering that the monument is a dedication to Guyana's historical past and a recognition of the acts of valor by "our enslaved ancestors who were willing to make the supreme sacrifice to secure freedom for themselves and their descendants."
The President said the 1823 Uprising "must be credited with influencing the decision to end slavery in all of the British colonies" because of the economic effects and impact it had on the slave trade and plantation life.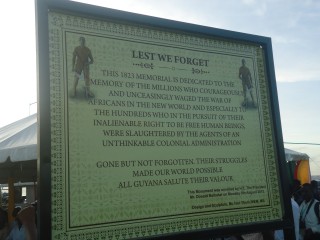 Culture Minister Dr. Frank Anthony addressed the controversy over the final site for the monument declaring that the Seawall site was only chosen after several requests in the newspapers for ideas went unanswered and were ignored. He said the committee that was set up to look into the establishment and construction of the monument had identified 10 villages along the East Coast of Demerara for it to be built but in the end, the seawall area along Carifesta Avenue was chosen.
"We regret the controversies that erupted around the siting, nevertheless I think its time we focus on the purpose for which the monument was built and that is to remember the resilience and resistance of our ancestors in the 1823 uprising", the Minister said.
He said the Ministry has been working to ascertain all of the villages that were part of the Demerara uprising and has taken on a project to get all of the names of the slaves who were killed.
A number of African groups in Guyana had called on the Government to build the monument at Parade Ground in Georgetown since that site served as a hanging ground for many slaves during the uprising. A private committee which has been examining that location intends to construct its own 1823 monument.
Filed: 5th August, 2013.