The Ministry of Housing and Water on Thursday inked $2.3B worth of contracts with six contractors for the construction of a four-lane highway from Eccles on the East Bank of Demerara to Mandela Avenue in Georgetown, a continuation of works already started in the area.
The works have been divided into six lots and is expected to begin in two weeks, with completion date set for December 10, 2021.  
The companies that will be responsible for the roadworks include Guyamerica Construction Inc., (Joint Venture) MTSUL Consturora Ltd, M&PA Investment Inc. and Consturora Cobra Eireli, Puran Bros. Disposal Inc. (Joint Venture) Collin Talbot Contracting Services+Eron Lall Civil Engineering Works, Aronoco Services Inc and JS Guyana Inc.
The scope of works includes land clearing and drain cleaning, construction of 5.5km of earthen drains and 200 meters of reinforced concrete drains; construction of reinforced concrete box culverts; 2.8km of four-lane rigid pavement carriageway with two parking lanes; installation of solar streetlights; and 12 reinforced heavy-duty composite bridges.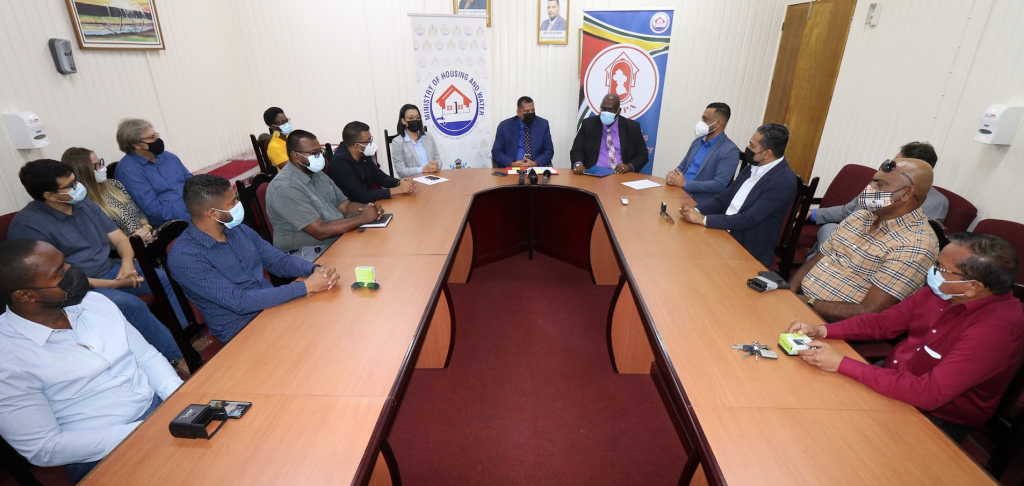 According to Housing Minister, Collin Croal, the project is expected to benefit more than 18,000 households in schemes under the Ministry and CH&PA.
Referencing a record-breaking $13.9 billion in contracts recently signed by the Ministry, he said that this is further evidence of the government's commitment to transforming the lives of Guyanese.
Meanwhile, the Minister within the Ministry of Housing and Water, Susan Rogridgues, said that she is pleased to see the rolling out of the project which will not only enhance the country's transportation landscape but also provide employment opportunities.