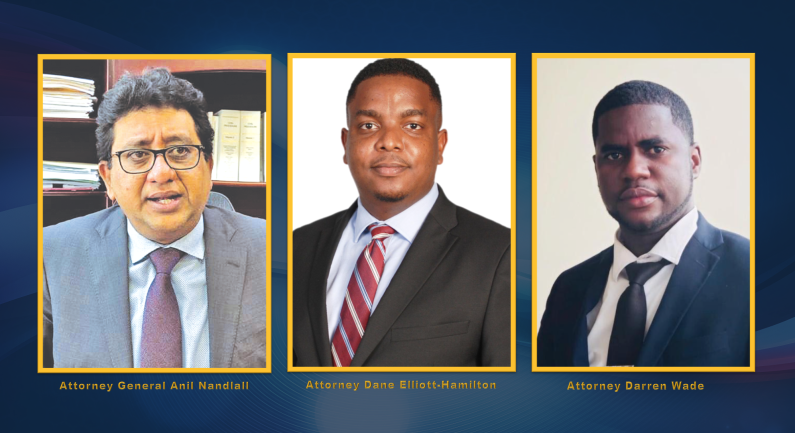 As the case against the Government's COVID-19 Health Regulations and Vaccination policy came for hearing this morning, Attorney General Anil Nandlall told Justice Fidela Corbin-Lincoln that several of the injunctions being sought by the trade unions that filed the matter falls outside the Court's remit and therefore cannot be granted by the Court.
The Attorneys representing the three unions, Darren Wade and Dane Elliott rejected the contention of the Attorney General.
The matter of law which was raised by the Attorney General will now have to be ventilated before the substantive matter is heard.
It is the contention of the Attorney General that the applicants are seeking orders against the State that the Court cannot grant.
He said the Court is restricted from granting such orders by the provisions of Section 16 (6) of the State Liability Act.
Mr. Nandlall argued that the State cannot be injuncted, but that the applicants must list organs of the state instead.
He also argued that that injunctive orders should not be granted as a matter of law.
But Justice Corbin-Lincoln was not fully supportive of the argument from the Attorney General and she explained that there is a statutory framework for the injunctions to be granted and said there is nothing in law that prevents the Court from granting interim injunctions.
In his submissions, Attorney for unions Dale Elliott argued that the basis the AG is using to ask the Court to reject the injunction is for civil proceedings while the application before the Court is a fixed-date application.
The Attorney General will now need to file written submissions with the Court to support his contention that the Court cannot grant the injunctions being sought.

The matter will come up again on September 17, 2021.
Meanwhile, the lawyers for the three trade unions explained that the matter is urgent because it restricts citizens from going about their day-to-day business.
The Attorneys sought a commitment from the Attorney General to at least relax some of the measures in the interim, but those requests were denied.
The substantive matter on whether the court can reverse the measures issued by the President will come up at a later date.