Gordon Moseley writes…
A few months ago, I really had no idea who Alkaline was.
I would have heard a few of his songs blasting through speakers and drizzling across the local airwaves, but it was just another Jamaican dancehall act to me. Then word came that this tattooed eye artiste would be heading Guyana's way for Jamzone and so I decided to spend some time doing some research on him and his music.
I was now paying attention to his music. It seemed to share most of the same dancehall theme but it sounded different. It sounded well thought out, well put together and sort of intelligent, in its own dancehall kind of way.
I was still not a fan but I listened. Then I stumbled across an interview he did with the Jamaican TV show ON Stage and I was impressed by his level of intellect and how good he was at answering questions. Forgive me for only now realizing that all dancehall artistes were not created equal. This kid was impressive.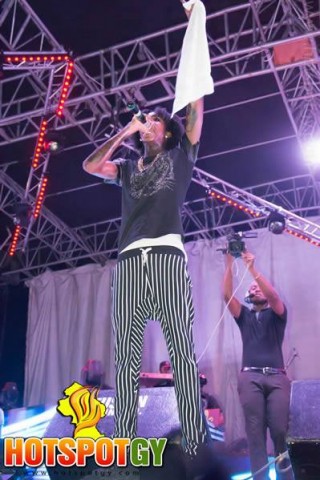 Whenever I would sit down to write stories, I would turn to youtube and play different songs in the background to keep my company. It was during one of those writing sessions that I bumped into Alkaline's "Live Life" piece.
The song seemed very personal to him and even the simple video with him sitting on a mountain side with his dog overlooking Jamaica appeared personal. The song told a simple story of focusing on one own's life and not worrying about society and how that society wants you to live. It became an almost daily anthem on my playlist.
Fast Forward to Alkaline's arrival in Guyana for the Jamzone Regional night and his interaction with the media. He appeared cautious whenever he opened his mouth. But he was always direct in his thoughts and offered them with great eloquence.
His radio interview with 94.1 FM's Malcolm may have convinced many dancehall fans like me, that this was not just another dancehall act. This is someone who knew what he was about and who focused on more than just his music.
With his sister who acts as his Manager sitting behind him, and a member of his crew to his right, Alkaline flowed through the interview as he answered questions about his upbringing, his education, the tattoo in his eyes and his music.
His music is all that matters to him and when he talks about it, you would see the dedication in his eyes, okay not his eyes, you would see the dedication in his face and through his words.
Saturday night arrived and after the usual hype by show MC, Entertainer Gully Rass, Alkaline emerged on the Jamzone stage with the dancehall burst of energy that I have only seen offered before by Beenie Man.
The crowd went wild. Ladies rushed to the front off the stage and threw their bodies against the loud speakers as the dancehall artistes easily flowed through all of his hits. He was introduced as the youngest and the baddest in dancehall, and the 20-year-old Alkaline wasted little time to live up to that title.
He brought more than just a burst of energy to the stage. With Guyana's Heatwave band at his side, Alkaline crisscrossed the stage effortlessly and had the crowd going with him hit after hit. He leaned over to grab the hands of many of the ladies who had pushed their way to the stage front and he sang to them as he asked whether they really wanted to "look innna ma eyes". He brought out his male and female dancers to show off his own dancing moves and kept the female dancers on stage a little longer as he moved through his dancehall songs about love and love-making.
The lights dimmed as the singer took on one of his more serious songs. "Gone Away" is a track dedicated to those people who have passed away. When Alkaline encouraged the crowd to raise a lighter to all those who have "gone away", the audience did just that.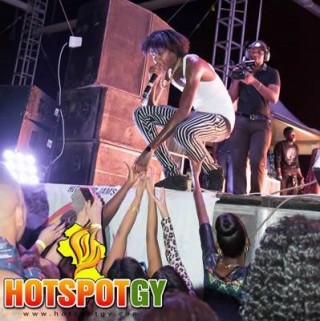 One young lady managed to make her way halfway up the stage and held onto his hands as she declared her love. But this was serious time for the singer and he made that known it known to her that it was a serious song with serious lyrics.
For the more than one hour performance, the dancehall star never backed down and sounded as crisp on stage as he does on those recorded tracks.
He called out to his audience and threw names of Guyanese towns and villages at them. They were overwhelmed and a few managed to push past the barriers from the General Audience and make their way close to the stage in the VIP.
The show went on as security was reinforced and as Alkaline continued to move between his tracks while warning the crowd that he would not continue singing if they continued pushing their way beyond the barriers. The crowd listened and complied.
I was honestly surprised by his performance. It was clean and it was good.
Even if you were not a fan, you found yourself standing and listening and eventually bursting out in back up notes as the artiste performed.
It is clear that a new dancehall sensation is born and based on his on stage performance, the world of dancehall music should know that Alkaline is here to stay and will only get better and become a bigger force in the Jamaican music arena in the years to come.
Don't be surprised if by 2016 there is the coronation of a new King of the Dancehall. He has already proven he is the "youngest and the baddest".
Filed: 24th August 2014
Photo Credit: www.hotspotgy.com