Gordon Moseley writes
I remember my first trip to Trinidad and Tobago Carnival. The year was 2005. Bunji Garlin was King of Soca while Fay-ann Lyons was making moves to become Queen.
Trinidad and Tobago's Carnival is really one of the most captivating events on earth. The pulsating beats of sweet Trini soca music only helps one to appreciate the festival more.
Three things stood out that year for me. Seeing Bunji Garlin set himself ablaze during his performance at the Soca Monarch show, admiring the young and beautiful voice of Fay-ann Lyons as she encouraged all to "wave to the sky" and meeting movie star Gabrielle Union who was also celebrating her Carnival visit.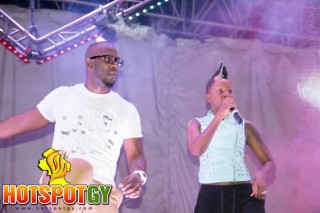 I liked Bunji's music but I fell in love with the soca sounds of Fay-ann Lyons. She was not well known in Guyana at the time. Guyana mostly knew of Destra and Denise Belfon and so there I was wondering how the hell we could have missed this gem of a beautiful voice and radiant personality.
For the next nine years, I would closely follow the music of the Soca dynasty. I would argue often with promoters locally to get them to Guyana and get them on stage. Eventually they would come and I enjoyed those performances.
When a pregnant Fay-Ann Lyons won the soca title with "Meet Super Blue", I was ecstatic.
I missed that year's carnival but ensured I got my friends to bring me back video of her performance and recordings of the song.
For months I would belt out "they trying to stop meh, tell them I keep moving non stop", as I drove along the highways and streets across Guyana. The song was my anthem and Fay Ann was the new Queen. I was happy for her. By this time, she and Bunji had already tied the knot and were starting a new life together.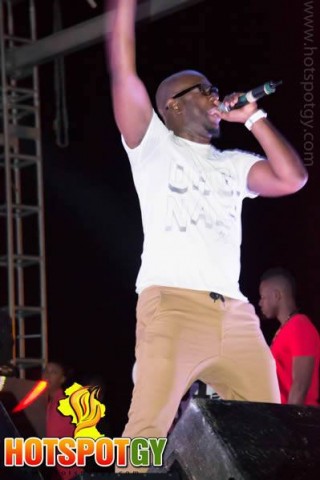 She kept bringing the hits, and her voice and presence grew stronger. Then came Bunji's Differentology and the soca world was hypnotized as it welcomed new lovers. Bunji had struck musical gold and the song quickly captivated the music world, found itself on all the big music shows and even on the highly rated TV drama, Grey's Anatomy.
This was Bunji's time and together with his wife he soaked it all up and they are still doing so. From the couch of BET's 106andPark to all the big music shows in New York city, the world was moving to a different groove and was loving it.
I'll admit that I am a bigger Fay-ann fan than I am a Bunji fan. Whether she encourages me to "drop on the ground and roll" or wants someone to "Catch me if I fall", I am hooked on her music.
So understand that I am a bit disappointed that over the past year, she appears to have taken a back seat to her husband's increasing stardom.
I am all for a woman's supporting her husband but I don't believe she should be doing so at the expense of her own development and following her own goals.
Bunji is more than the lyrical genius that he professes to be. He is a soca icon and a world star on an emerging stage. From all appearances too, he is an excellent husband and father.
But I don't believe that he may have truly realized that his wife is quietly taking on the role of his organizer and chief supporter while scaling back on her career and where she could be.
I may be wrong, but this is just my observation as an outsider and someone who is a fan of these two great artistes. Bunji keeps her at his side always and never crosses a stage without her at his side. But Fay-ann must understand the need to capitalize on that and take us back to 2005 when she had us all waving to the sky.
I was more than happy when I found out that the two with their Asylum band would be in Guyana for Jamzone.
This was now my show. It was the Big Stage with two of the Biggest names in the business.
Showtime came and Bunji captivated the crowd from the very start of his performance as he changed gears to put a "truck on de road". Bunji represents the future of soca music.
I am convinced that he may have already surpassed Machel Montano when it comes to putting soca on the international stage.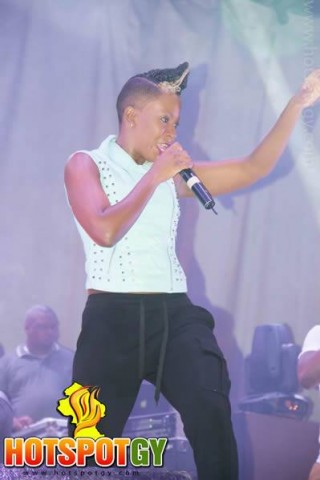 Bunji breezed through his hits and had his wife at his side once again belting out all of his hits. As a team, they are excellent.
They know each other well and that unity is seen whenever they take a stage. It was evident again at the Jamzone regional night as the thousands of patrons were reminded of Bunji's lyrical supremacy and his ability to free style on just about every subject, from the lady in pink in the crowd, to the sales people in the fish shop truck.
The performance was epic and showcased all that there is to love about soca, the energy, the vibes, the body swaying and the getting on bad.
As Sir Bunji performed, Fay-ann kept at his side and two steps behind in her supporting role. She would emerge for a few moments to offer up some of her own vibes throw her soca hits. The audience was captivated and enjoyed every moment of this musical dynasty.
I believe that together, there is no beating Bunji Garlin and Fay-ann Lyons. But I also believe that the match could be greater if she sells herself more during these performances and takes an equal chunk of the musical pie.
She has got the hits to back her up enough on that. You can be married to the King of Soca and not establish yourself as the true Queen.
Fay-ann has got to seize every moment of Bunji's rise on the world stage and put herself out there as more than just the supportive stand by your man wife. I believe Bunji wants her to do the same and she must recognize that and grasp at it.
She has to be the Beyonce of soca. Be married to a music star but don't sit back and allow his light to shine brighter than yours. Put your stars on an equal path and let them pitch together.
I know that they say that in marriage the two shall become one, but I would want to add that when it comes to a musical union, the two should never mean just one.
Filed: 24th August, 2014
Photo Credit: www.hotspotgy.com