One day after the Opposition Leader had what he described as a "fruitful" meeting with the President, he was out with his party's Presidential Candidate and scores of supporters in the pouring rain outside the President's office calling for "early elections".
The PPP brought several of its supporters to the city on Friday to join a protest for elections within the next three months.
The protest started under cloudy skies and within minutes of gathering outside the President's office, heavy rainfall came pouring down. That did not stop the protest from continuing.
After the protest, the PPP's presidential candidate, who has been accused of taking a back seat to the party's General Secretary, stepped to the front and thanked the supporters for braving the rain to let their voices be heard.
Mr. Irfaan Ali described his party as the "all-weather" party as noted that it is ready for elections.
"The People's Progressive Party is an all-weather party. Rain or sun, we will always be on the side that protects democracy, that protects the rule of law and uphold the Constitution of Guyana", Ali said.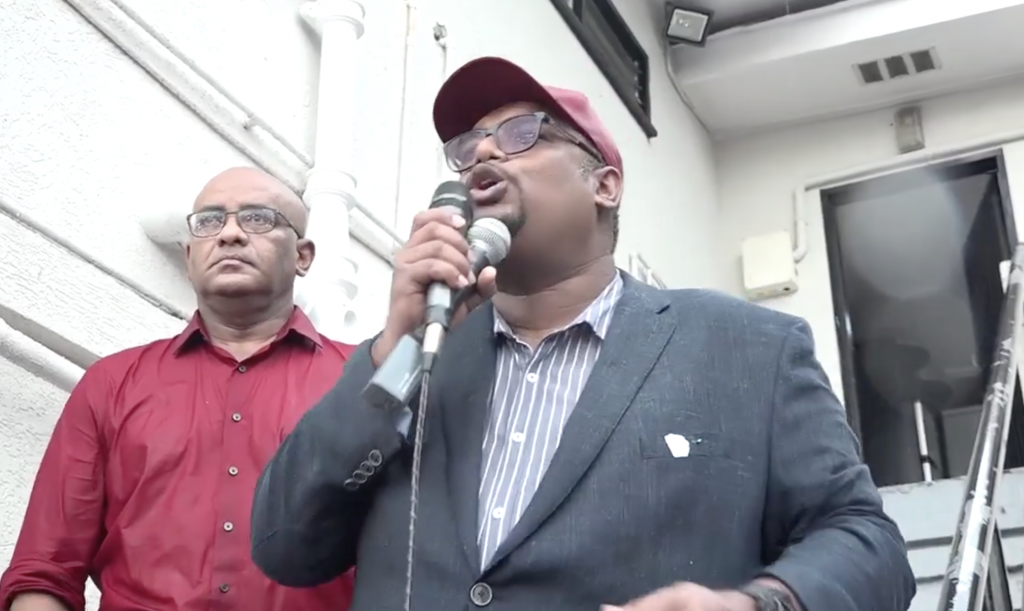 He told the supporters that today they created history by standing in the rain to take a stand for the rights of people and in support democracy.
Ali said he intends to "walk everyday" with the party's General Secretary and its leadership and supporters.
"Together we will, Together we must. One future, One Guyana, One purpose and to that is to bring prosperity and development to all Guyanese and to ensure that the rule of law and democracy and our Constitution are protected at all times".
With the party's General Secretary Bharrat Jagdeo standing behind him, Mr. Ali said he would like to thank him for his leadership. He said Jagdeo should know that the PPP is fully behind him.
With his speech to supporters wrapping up in less than five minutes, it was the General Secretary, Bharrat Jagdeo who took over the microphone and spoke to the supporters for over 15 minutes.
Jagdeo spoke about the no-confidence motion, the CCJ's ruling and the need for the party to continue to press the government to call elections within three months.