A team of American Airlines workers, who all have a Caribbean background, is currently in Guyana as part of the airline's Caribbean Employee Business Resource Group.
This afternoon the group hosted will a "Safety in Aviation Seminar" at the Art Williams & Harry Wendt Aeronautical school for the students of the school.
According to Guyanese Abina Phillips of American Airlines, the initiative is one that forms part of giving back to places that the airline serve.
She explained that with this month marking the first anniversary of American Airlines' schedule service to Guyana from Miami, it was an opportune time to come to Guyana, as the airline also prepares to launch its New York to Georgetown Service in a few weeks.
"At our company, we want to make our company more diverse and inclusive and so we have 20 employee business resource groups or we call them our affinity groups, and as I am Guyanese we are part of the Caribbean group", Ms. Phillips said.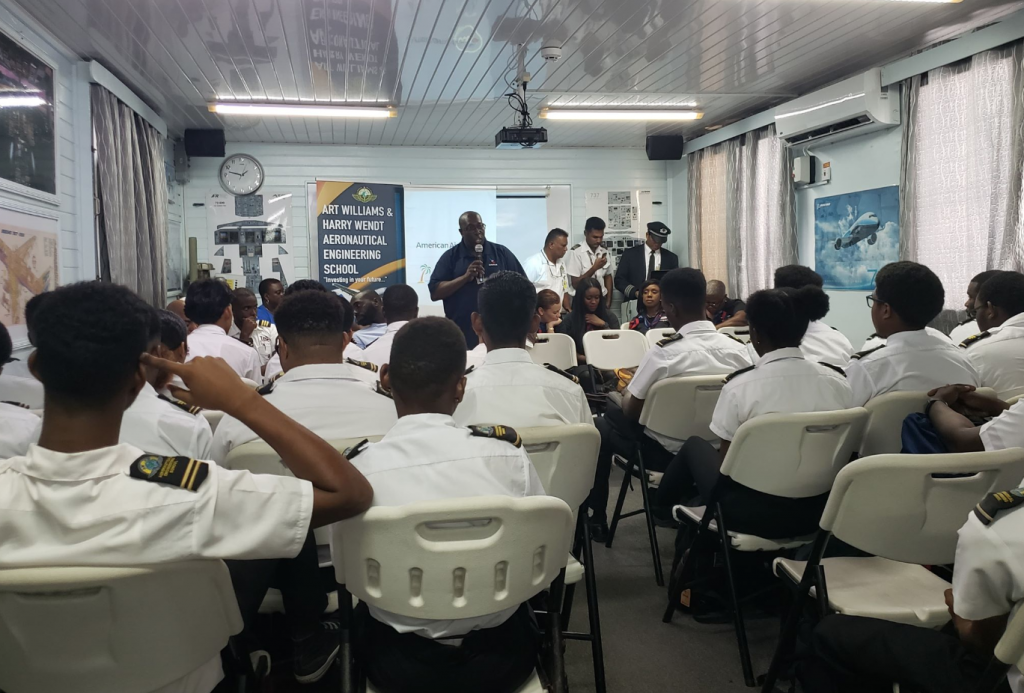 General and Accountable Manager at the Art Williams and Harry Wendt Aeronautical School, Nalini Chanderban said the school was pleased to partner with American Airlines on the seminar.
She said the aviation industry in Guyana is growing and as it does, it is important for students of the Aeronautical School to always be kept abreast with safety and other issues related to the industry.
During the seminar, the students were exposed to various safety topics ranging from Safety on the ramp and communication to safety onboard the aircraft and a day in the life of a pilot.
One of the airline's pilots is Guyanese Captain David Samaroo who explained that he is happy that American Airlines is expanding its service to Guyana.
He explained that when he first started to work with American Airlines a few years ago, he started to encourage his bosses to look closely at the Guyana market. He said he continued to push for that move and was happy when it was announced.
Three of the flight attendants who made presentations today are all Guyanese, including a mother and daughter pair.
They explained that their career with American Airlines has been rewarding and they are happy to share their experiences in the field.