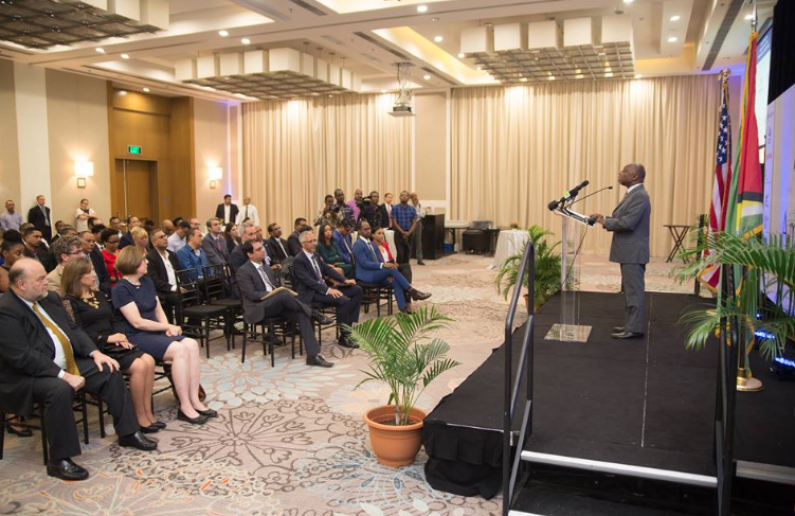 The American Chamber of Commerce in Guyana was officially launched on Monday evening at the Marriott Hotel with the hope of strengthening trading ties and relations between Guyanese and US companies.
Already a number of local companies with links to the United States have signed on as members of the Chamber, but is also open to other companies.
With the coming oil industry and renewed interest in Guyana by investors across the world, the Chamber is expected to serve as a link for many of those American companies and Guyanese companies looking to develop trade ties and make investments.
US Ambassador Perry Holloway said this is the perfect time for Guyana to launch an affiliate of the American Chamber.
He said it will promote and create US/Guyana Trade AND Business Opportunities and will also share the exchange of best practices for institutions and systems building.
He noted that with the oil industry, foreign investment in Guyana will be increasing significantly and the country's potential is enormous.
"Foreign investment will only increase in the coming years. Guyana has vast untapped resources and a small population. The potential is enormous. With the right policies, Guyana could become one of the richest countries in terms of per capital Gross Domestic Product", Ambassador Holloway said.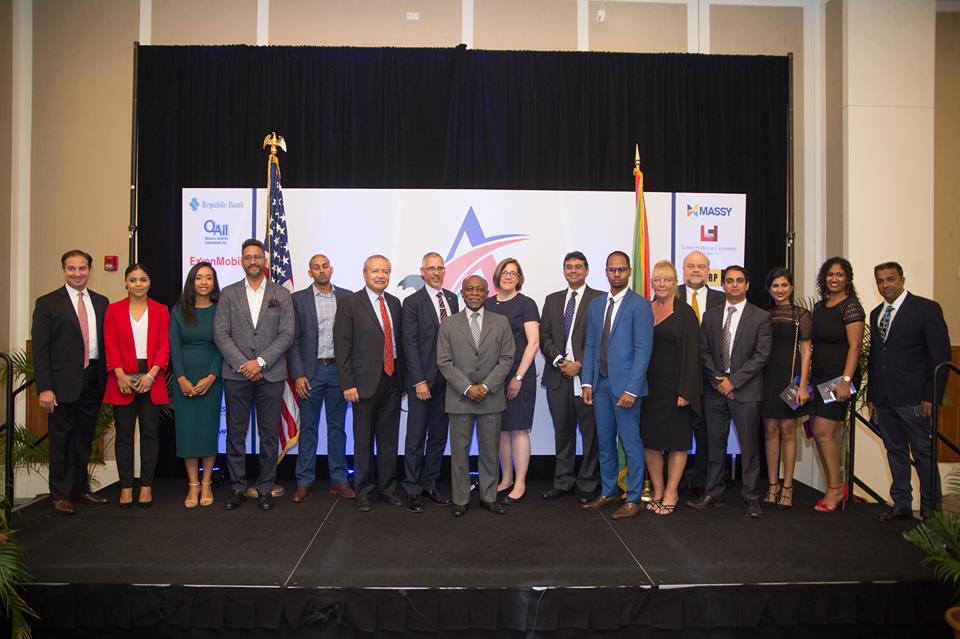 Business Minister, Dominic Gaskin, also welcomed the launch of the American Chamber in Guyana and said it will receive the support of Government, which according to him, has been creating a better climate for investment.
The Business Minister said Guyana is ready for business and with organisations like the American Chamber showing an interest, it could open many more opportunities for Guyana.
Foreign Affairs Minister Carl Greenidge also pledged the Government's support, pointing out the role of his Ministry to support international trade.
The American Chamber of Commerce Guyana already has a board in place. Corporate Secretary for Queens Atlantic Investments, Zulficar Ally will be serving as its first President. In brief remarks at the launching, he said the American Chamber's presence in Guyana will help to facilitate investment.
He said the organisation will be working closely with government and the private sector to facilitate trade, investment and closer business partnerships.
The event was also attended by the Vice President of the American Chamber of Commerce, who welcomed Guyana to the organisation and its more than three million members and affiliates.