In what is likely to be his last US Independence address as the United States Ambassador to Guyana, Mr. Perry Holloway on Wednesday said he believes the old contract signed with US Oil Giant, ExxonMobil is about the best that could be expected based on historic exploration results in Guyana at that time.
Holloway also spoke about the changes made in the renegotiated contract which took shape after a change in Government in 2015, saying it was certainly to benefit all the peoples of Guyana when reserves were barely a million.
He said citizens need to analyze and make decisions based on facts and reality and not fiction or surrealism, pointing out that there is no scenario where after initial investments are recovered that Guyana will get less money than its partners.
"Surely getting more money than my partner cannot be considered a horrible deal… Guyana's real challenge will not be how to get more money but rather how to spend the money it will get because it will be a lot more than Guyana has now," Holloway said.
The US Ambassador said he believes Guyana's future is bright because of the future of oil production.
"…in spite of all the negative press, in spite of all the angst and in spite of all the uncertainty, Guyana's future looks brighter now than ever before."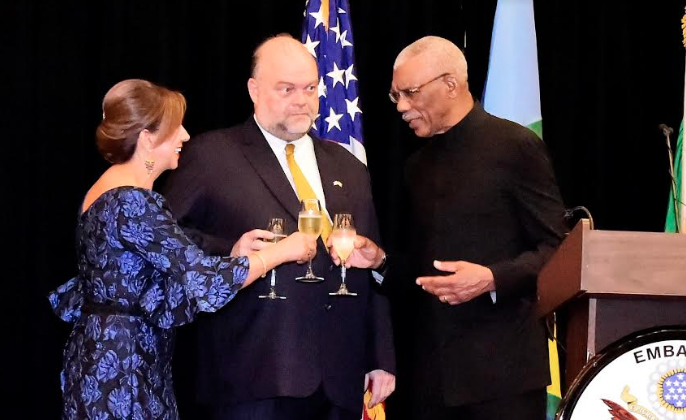 Holloway told those gathered at the Marriott Hotel for the annual reception that the several discoveries of oil offshore Guyana is a really "big, big deal" and everyone needs to take it seriously and get smarter on the issue.
"While the Government of Guyana is currently doing many of the things that need to be done, much more will need to be done," he added, while explaining that while President David Granger and his Government are committed to getting it right, that cannot be done without the help of all Guyanese.
To this end, he called on Guyanese to hold their elected officials accountable as should be done in any democracy, as well as international and domestic companies operating in the industry.
Ambassador Holloway said the United States Stand ready to assist but the real work is for the Guyanese people to do.
"I am here to tell you today that if you want us, then the United States will be by your side going forward."
When oil production starts in 2020, the first well (Liza 1) will produce 120,000 barrels per day, with prospects of the country getting to 500,000 barrels of oil per day.
President Granger and several Parliamentarians from both sides of the House were present at the event with other high ranking officials from the private and public sectors and other invitees.
-by Kurt Campbell-