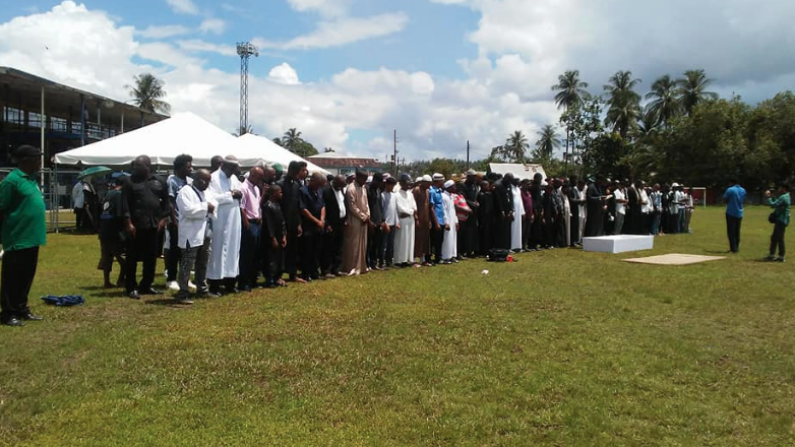 Hundreds of Lindeners gathered at the Mackenzie Sports Club this midday to bid farewell to former Mayor of Linden and former Regional Parliamentarian Abdul Kadir.
Kadir passed away in a US Prison recently, where he was serving a life sentence on a terrorism conspiracy conviction. He had always maintained his innocence of the charge.
At the short muslim ceremony in the town where he once served as its Chief Citizen, he was remembered as well respected and humbled. Family members and the Imam who carried out the service at a packed Mackenzie Sports Club, were the only ones offering tribute.
Although members of the municipality and former colleagues were in attendance, the programme followed what appeared to have been the family's wishes.
One of his children asked the community to pray for their father's forgiveness and that Allah have mercy on his soul.
The Master of Ceremony for the service,  Jafar Muhammad reminded the gathering that across the world, if a muslim commits a crime, they always own up to it, "but brother Kadir maintained his innocence to his death".
Kadir was convicted and sentenced in the United States back in 2010 along with three other elderly men for plotting to blow up gas pipelines at the JFK Airport.
Throughout his trial and even after being convicted, he maintained his innocence and repeatedly said he was wrongly accused and wrongfully convicted.
The United States Government had used the services of a drug convict informant as its key witness during the trial. The man had been sent to Guyana and met with members of the muslim community in Guyana and Trinidad.
Kadir was reportedly approached by the man about his engineering experience. Kadir and the other three men were arrested in Trinidad and Tobago and extradited to the United States where they faced trial in New York.
Photos by Lennox Gasper