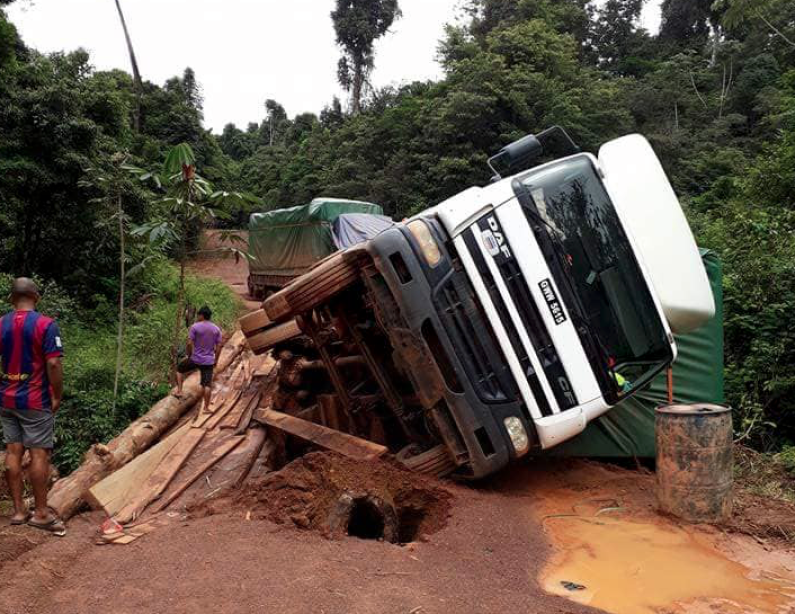 The Guyana Manufacturing and Service Association (GMSA)  is calling on Government to take urgent action to repair and maintain roads in Guyana's interior region, as timber producers are facing huge losses because if the roads being in an impassable state. 
Several operators in the timber and mining industries have been complaining about the state of the  main roads to the interior regions. Some roads have been washed aside by the heavy rainfall while others have deteriorated over the years.
The Manufacturing and Service Association in a statement today said small, medium, and large Scale logging companies are experiencing one of the worst periods with significant losses of revenue because of rainy conditions and deplorable interior roads.  
According to the Association, "across the regions of Essequibo, Demerara, and Berbice, the hinterland road conditions have significantly worsened due to an extended rainy season.  The failure to maintain the interior roads prior to the rainy season, has led to further crisis and has placed a very bleak outlook for many industries including forestry, mining, tourism, and trade."
The Association revealed that revenues of many timber companies are down by 50% and more and that is already having an adverse effect on employment.
Skilled workers are being sent home  and in some cases,  the workforce is being downsized due to the worsened condition of the roads. 
"As much as 30 percent of cost of production in the forestry sector is transport oriented and the poor state of interior forest roads is one of the most prominent issues affecting the sector. The maintenance of the interior forest road network, in many instances, is left to large forest concessionaires, specifically holders of TSAs", the group noted.