Minister within the Ministry of Natural Resources Simona Broomes offered no comment when asked on Thursday whether she had any intentions of apologising to the security guards who were part of a parking lot fracas involving her and her driver.
Broomes had claimed that she was cursed at and felt threatened by the security guards. The Police were called in and the two security guards were held for questioning but later released.
After a part of a security video recording surfaced online showing parts of the parking lot row, there were calls for Broomes to apologise to the guards since in the recording, she could be seen coming out of her vehicle and removing the sign that was blocking her vehicle after one of the security guards had placed it there.
Those calls for an apology increased after her colleague Minister Volda Lawrence met with one of the guards and offered an apology, although she did not have any discussion with Broomes on the issue.
At Parliament today,  Minister Broomes was flocked by journalists just after her arrival and she was repeatedly asked to offer  comment on the incident.
She said she had "no comment" as she headed to the Parliamentary Chamber.
Other senior Ministers who arrived after Broomes were also very careful about the comments they were offering on the matter.
Public Health Minister Volda Lawrence said she thought it was appropriate to apologize to the guard who came up to her while she was having dinner the night after the incident at the same Providence branch of the New Thriving restaurant were the confrontation occurred.
Asked whether she thinks Minister Broomes should follow her lead, Lawrence said "Well, Minister Broomes will make her decision… I apologized on my behalf and the PNCR's behalf. We didn't come into government for issues like this we came in to make changes."
Lawrence denied that her apology was a political stunt in her quest to become Chairperson of the party since she is running against Minister Joe Harmon and Basil Williams and Broomes has chosen to throw her support behind Harmon.
"I am Volda Lawrence, humble and polite. I am not Minister Broomes Lawyer and I am quite certain Minister Broomes will make her statement. I have not spoken to the Minister because I know she is capable enough to make the right decision and she would have heard sentiments and she will do what she needs to do" she said.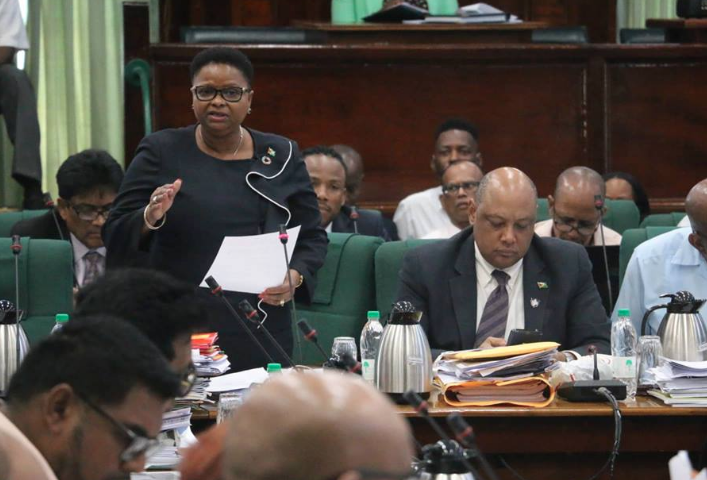 Lawrence denied that the meeting between herself and the security guard was an organized meeting, explaining that she went to have dinner when the young man came up to her to offer an explanation.
She reportedly visited the restaurant just after launching her Campaign for PNC Chairmanship at Vree-den-Hoop.
She admitted that she has not reached out to Minister Broomes since the issue.
Meanwhile, in a brief comment Minister Harmon said he considered it inappropriate for any Minister to be making any statement at this time on the issue.
"Let the Police do their work," he added.
Government Chief Whip Amna Ally declined to comment specifically on the fracas. "I know not what took place so I will not make any comment on that. Hearsay goes around a lot in this country. A lot of it is true and a lot of it is not true."
Ally said she believes nonetheless that all and sundry must pay attention to the rule of law.
"Whether you are a Minister or an ordinary person that is what is expected and that is what I would expect from everyone."
The Chief Whip said she had more important things to do and didn't review the footage taken of the incident.