The Guyana Police Force today announced that no charges will be pursued in the parking lot row matter between Government Minister Simona Broomes and two Security Guards at the New Thriving Parking Lot, Providence.
The incident occurred more than three weeks ago.
In a statement this morning, the Police Force said, the file was completed and sent for legal advice and based on all the Statements and video footage that were presented, "no charges are advised".
Minister Broomes, her driver and another staffer were heading to the Restaurant for dinner when after removing an old chair that was blocking entrance to part of the parking lot close to the restaurant, an armed security guard appeared and placed a large taxi service sign in front of the vehicle that was in motion.
The vehicle stopped and the Minister was seen coming out of her vehicle and having a brief conversation with the guards before throwing the signs aside.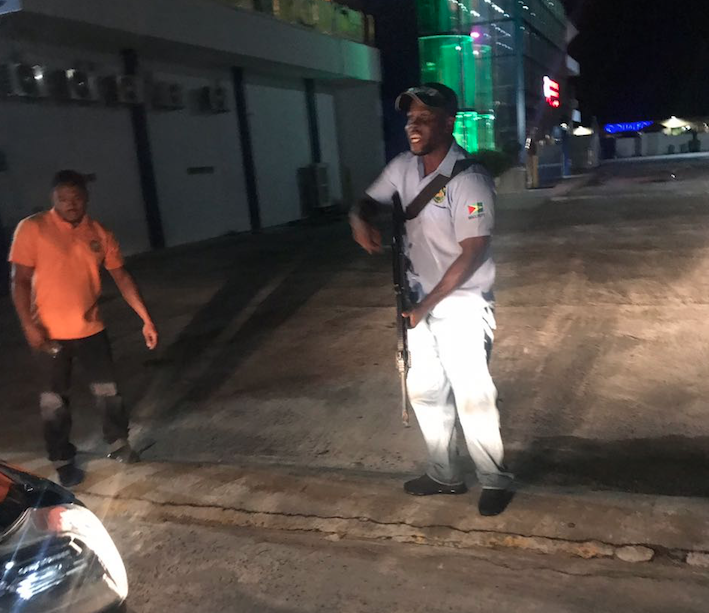 Part of a video recording released by the company that owns the building showed part of the altercation. The Minister had called in the Police after claiming that she felt threatened by the armed guard who allegedly "cranked" his gun in her presence, cursed at her and also followed her into the restaurant.
The armed security guard has since been identified as a US deportee who was sent back to Guyana a few years back following a conviction on an illegal gun possession charge. Its unclear whether he has been granted a license for a gun in Guyana.
The Minister had come under widespread criticism for her actions, especially on social media and from the Opposition. She offered no comment throughout the investigation but hinted that the part of the video provided did not capture all that took place on the Sunday night.
From all appearances, Police investigators have now closed the case on the incident.