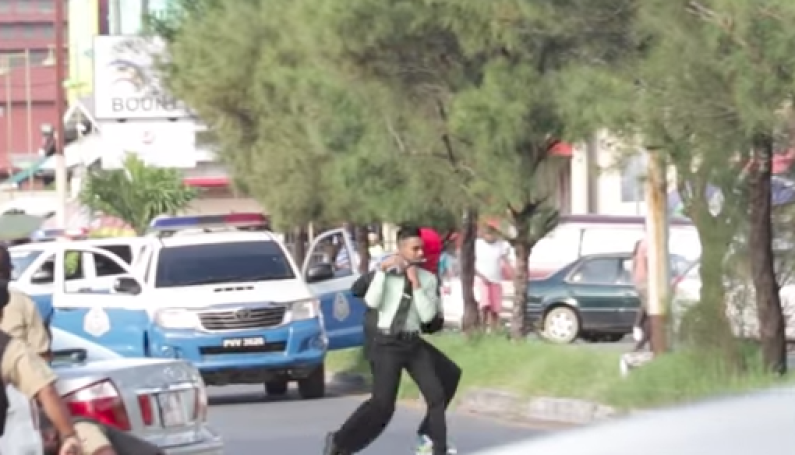 As the dust settles over yesterday's daring attempted robbery of Republic Bank on Water Street, many staff members of the bank remain traumatized.
One of the three gunmen who attacked the bank just as it was opening its doors to start the day's business, was shot dead.  His two accomplices, including an employee of the same bank, remain in Police custody and will face robbery charges before the end of the week.
Some bank employees were too traumatized to speak to investigators yesterday. They are expected to face questioning today.
Video footage of the shoot-out between the robbers and the gunmen has now surfaced and in one of those video releases, an employee of the bank could be seen being taken as a hostage by a gunman as the Police and security agents of Professional Guard Service closed in on him.
The young men could be seen being hurried across the bust Water Street area as the masked gunman held the gun to his head.
The employee was reportedly only released when the gunman made his way into the new Vendor's Mall located just across from the bank.
It was in the same mall that the gunman was found hiding out in a small snackette. He has since been identified as Jamal Haynes, who worked at the same Republic Bank.
When he was found, he had already changed from the dark coloured overall and had already disposed of the red tee shirt he used as a mask.
Vendors who spotted him, alerted law enforcement to his hideout and he was taken alive but with a gunshot wound.  Some persons in the area pounced on him as he was being taken into custody.
In a statement yesterday, Republic Bank announced that the Water Street branch will be closed until further notice. Additionally, the Bank is providing counseling and trauma related services to affected staff members and customers.
Investigators believe the robbery was well planned between the three men. The getaway car was found stashed at the back of the new vendor's mall, and the car belonging to the bandit who was killed during the shoot-out, was found late yesterday parked in the Royal Castle restaurant parking lot in South Ruimveldt.
A man who works nearby recalled seeing the same young man pulling up in the parking lot just after 6 o' clock yesterday morning.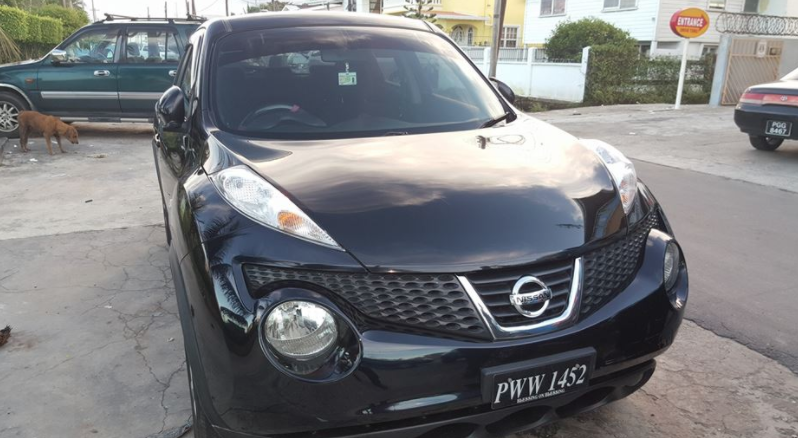 He said while he was not suspicious of the young man's movements, he did notice that he remained on his mobile phone for several minutes before he eventually exited his car and left the scene in another car that came to pick him up.  It is believed that the other car, was the same car that was to be used as the getaway car.
Police investigators found four guns at the scene and are continuing to conduct tests on the guns to see if they may be linked to any other recent incident.  The probe is ongoing.