Three men who attempted to rob a Republic Bank branch office on Water Street have been captured following an early morning shoot-out with Police and officers of the Professional Guard Service at the downtown Georgetown location.
News Source understands that it was just after 7:30 on Tuesday morning that gun shots rang out in the area, sending bank employees to the ground as vendors in the nearby market place dashed for cover.
Reports suggest that an armored vehicle making a cash deposit at the bank came under attack by the armed men, but the security officers attached to the bank and the armored vehicle returned gunfire, hitting one of the men to the face while his accomplices ran for cover.
One of the bandits was nabbed in the vendor's mall where he ran into a shop to seek refuge, but vendors alerted the Police and security teams.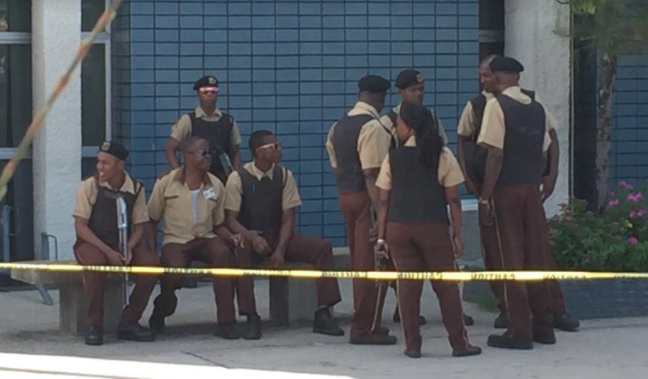 One vendor who spoke to News Source said she ran for cover when she heard the multiple gunshots.  She said she never left her hideout until after all the gunshots had ended.
A Division Police Commander, Marlon Chapman, arrived at the scene and said the investigation is still ongoing and the Police will provide a full brief after they gather initial statements.
Several bank employees were left traumatized and had to be assisted out of the bank as the gunshots ended. One visibly shaken employee, wept bitterly as security officers helped her out of the workplace, through one of the doors that had been shattered by the gunfire.
The investigation is ongoing.