The bandit who was shot to the chest during a robbery attempt at Republic Bank on Water Street, has died from his injuries.  He has been identified as Elton Wray aka "Peas".
The other bandit who was injured has been identified as Jamal Haynes.  A third man who was captured by police, remains in custody. His name has not been released as the probe continues.
Wray and Haynes were best friends since their school days.
Elton Wray, who celebrated his birthday back in December, was an employee of the National Agriculture Research Institute (NAREI).  He worked there as a Research Assistant in Soil Management.
Co-workers did not find anything strange when he was a no show at work this morning, but were left shocked when they heard that he was one of the dead bandits.
According to one of his friends, the young man returned to Guyana just over two years ago after completing his studies in China.
Although he landed a full time job more than a year ago, he was seeking part-time employment, and asked another friend just last week for assistance in finding a weekend or evening job.
The injured bandit identified as Jamal Haynes, worked at the same Republic Bank. He was reportedly found hiding out in a stall at the market just opposite the bank.  He ran from the scene with injuries and took off his disguise when the gunshots started. Both men are believed to be in their mid 20's.
The men had already made their way into the bank through the ATM area when they made an attempt to carry out the heist. They were cornered by security officers from Professional Guard Service and Police ranks. Loud gunshots sent bank employees and customers scampering for safety.
Four weapons were recovered from the bandits.
In a statement, Republic Bank said there were no serious injuries to staff or customers but the bank has put a trauma centre in place to lend assistance.
The Bank has closed its Water Street Branch until further notice and advises all customers that their banking business can be conducted at all other branches.
Republic Bank confirmed the attempted robbery and said it occurred as staff entered the Branch.
The Bank's Managing Director, Richard Sammy, said "all of our staff have been accounted for and, where required, have received medical treatment. The bandits were unsuccessful in their robbery attempt. Our greatest concern at this point rests upon the safety and well-being of our staff and customers."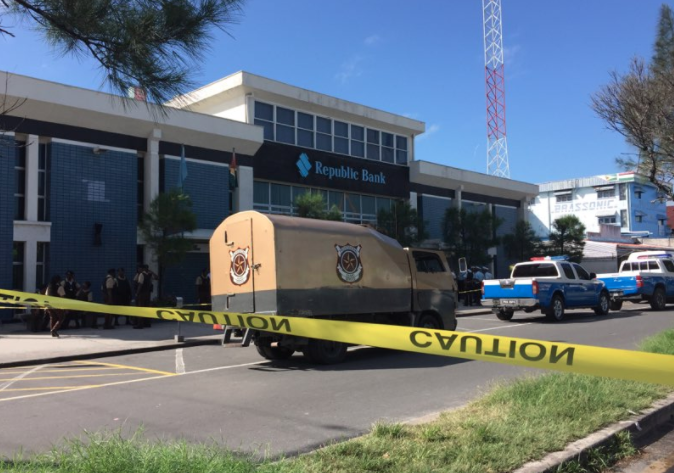 In the statement, the bank also said it will continue to work with law enforcement officials as they continue their investigations.
It extended gratitude to the law enforcement agencies and security personnel for their alert response, which prevented the situation from escalating further.