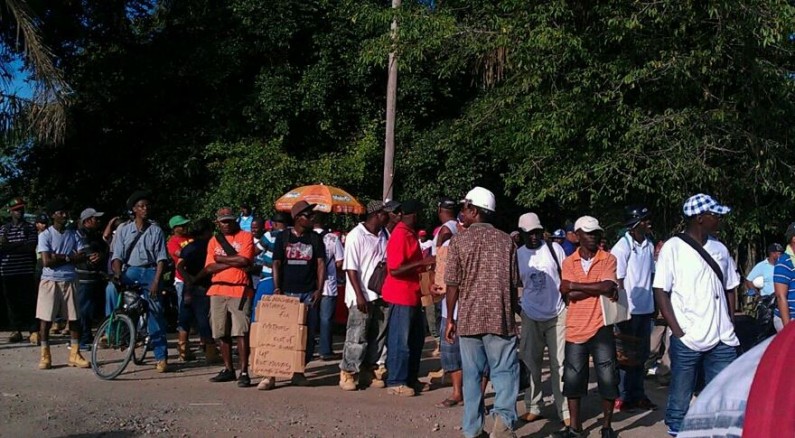 Workers attached to the Bosai Bauxite Company at Linden began protest action on Monday pressing the Chinese owned company to offer them better wages and salaries and guarantee their Christmas bonus.
Scores of workers walked off the job and began a picketing exercise just after 7 o' clock on Monday morning as they voiced concerns about the 6% increase that the company is offering them. The workers said that increase is not enough and they are also protesting a reported decision by the company not to offer them any bonus for the Christmas holidays.
One worker told News Source that they are tired of being disrespected by the company. "Every time its time for them to pay us more or pay us the annual bonus it becomes a problem because they want to offer little or nothing and we are tired of that", the employee said.
Some other workers said the company has been ignoring their concerns and has not been paying attention to the demands put forward by their union representatives.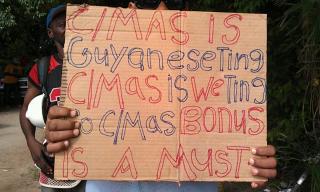 The Union which is representing the workers interest is the National Association of Agricultural, Commercial and Industrial Employees (NAACIE). The Union's Linden Secretary, Aggrey Darlington, told News Source that the workers are "tired of going backwards. It is time for us to move forward".
He said the company announced in October during negotiations that it will not be paying any bonus this year although it is close to meeting its targets and has been increasing production.
Darlington said the workers should be adequately compensated for ensuring production was on the rise. He noted that all of the workers are "dissatisfied" with the way in which the company has been addressing their concerns. According to the union representative, the workers are also not prepared to accept another 7% increase in their wages. He said that has been the increase over the past four years and it is time for the company to offer more.
The workers intend to continue with their protest action until their concerns are addressed. Officials at the company were not available for comment.
Filed: 24th November, 2014